There is no denying it, Rome's history is the stuff a history junkie like me craves…but I think I will leave it to the other billion people who are there.
I had wanted to go to Rome on our previous trips. It was very high on my must go places…I don't use bucket list because I think my bucket is travelling along quite well right now! It had everything I wanted to see, The Colosseum, Circus Maximums, Palatine Hill, The Vatican and the list just went on and on. I was stoked when Mark said it would be a place we would spend a good amount of time in on this trip. I started looking at all the places we would see and started to dribble all the time with the thought of the food. Everyone I talked to said they loved it, they raved about it and I was so confident that I was going to find the place I wanted to escape to. Then there is the other side of Rome.
I was so wrong and devastated to meet the other side of Rome
Now don't get me wrong I could have spent another two weeks in Rome exploring the city, wandering its streets, eating the food, going on amazing food tours, enjoying the most amazing gelato and stumbling on buildings that seemed so insignificant on the outside but housed some of the most beautiful things I have ever seen on the inside. There just wasn't a place you went near that wasn't amazing, held some kind of important artefact or had seen many moons pass it. Everything has a story to tell and how I wished the walls could talk.
You just had to get passed all the other people, scammers and litter to get there.This is the other side of Rome
This really clouded my time in Rome. I felt constantly bothered by being approached by people trying to scam me out of money. I understand they are trying to make a better life for themselves and their family but once I say no I mean it and I hate being pushed and pushed. I hated being followed when I tried to walk away and I was absolutely infuriated when my children were then targeted. This is where I drew the line most of the time and I got a distinct feeling that whoever was harassing us knew they had overstepped the mark once my kids were involved. Both the girls were very wary of people walking up to them on the street during our stay in Rome. I suppose that was a good thing in one way as they did not wander far from us but at the same time, it did leave them hesitant to explore a little further from us as they would normally do. It also frustrated them that some days we would return to the apartment cranky at the amount of time we spent just saying no and trying to get away from people we did not want to be around! Marley even made the comment that she just wanted to leave so it could just be the four of us again. In most of our trips, we have been lucky to go to some places that are not so populated and they are able to wander pretty freely but they both knew this was not one of those places. I also think coming from a town of 5000 people it was a huge culture shock for them even though they have been to some of the largest cities in Europe and Australia. It was just so different that even Mark and I felt it. This is the other side of Rome, the seedy side, the travel scams in Rome are rife.
The thing that got me the most was you could not escape it, ever. If you were not being harassed…(we even had it at the dinner table trying to talk about our day, the waiter ended up chasing the guy off for us) you were being herded through something you wanted to savour. In all honesty, I was actually pretty impressed with the number of people they could get through a place at once and at the speed until I wanted to stop and look at something. For the kids in the 'boring places', it was a blessing! We would start to be ushered through and with a little sly smile they would say 'well mum the man is making us move it's not our fault!'.
The Sistine Chapel was one of these places. It felt like we waited forever to get in there and then it was so cramped that we lost both the kids in the crowd, we were being yelled at to stay in the middle and there were people being screamed at to stop taking photos. At this stage, I just thought, no way I am just going to stand here and look…I wanted to really take it in and I was glad I did. I only had about 5 minutes before I nearly got knocked over and Marley was starting to get really upset about not being able to see us. So with two kids hanging off me, I made my way out. We did have a win just after that when a security guard let us jump a couple of ropes to get out easier. I think the looks on the girl's faces made him think it could not end well if we were not let out!
Through all this, though I am hoping to return to Rome one day. (I would also love to have a short stopover in Florence or Sicily too), I mean the food and coffee in Rome are amazing  I really do think that there is so much more to see and experience. I think if someone had have given me tips for visiting Rome, that it can be slightly intimidating and there is a lot of in your face stuff that happens I may have been a little more prepared. But then again what would be the point of discovering a new place with a heads up?!
We stayed in Rome with

Airbnb

. Click the image below to sign up for

Airbnb

and receive a discount off your first stay

 
<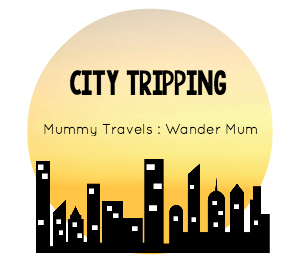 >
While we found our time hard in Rome we still got to see some of the most amazing places. I hope one day everyone gets to see them but hopefully with fewer people around! Here are 2 other posts from us here at Wyld Family Travel about our time in Rome.
---