Berlin is a city shaped by its past, a city still rebuilding from its past and moving on from its past. The German capital offers so much to see and do both culturally, historically and entertainment-wise.
The best way to experience all that Berlin has to offer is with the Berlin Pass, the Belin Pass offers you free entries to many of the cities' greatest sites. We have used the City passes all over Europe, and the one offer in Berlin is by far the best we think.
The Berlin Pass includes all of the popular Melin Entertainment sites in the City, Berlin Dungeons, Sealife and Madam Tussauds are popular with teenage visitors to Berlin
The Pass comes in durations 1,2 and 3 days. We were lucky enough to be given a 3-day pass for our family to try out while we were visiting Berlin. There is no shortage of great attractions in Berlin as a family could easily spend weeks exploring and thousands of dollars on entries.
Our itinerary is only indicative on what we wanted to do and the number of hours we wanted to spend exploring. If you're motivated and prepared to start early and finish late, the sky's the limit to what you can see and do with the time you have.
Day 1
We started out at Alexanderplatz at 10.30 am where we picked our passes up at Big Little City Berlin. You can purchase the Berlin Pass at hundreds of places, including most hotels but we recommend getting your passes online prior to arriving
Big Little City Berlin.
The whole family really loved this attraction, it is basically Berlin scaled down as it tells the history of the City through sometimes interactive models. It shows Berlin from the 18th century through to present time. There is a special section dedicated to WW2 and what it was like to live in East Germany under the Stasi.
You see the Berlin Wall coming down, New Year's Eve at the Brandenburg Gate and the history of Christmas markets in the City and this is a great attraction for the whole family. Recommended time spent 30-60 minutes.
Best of all, it is free with the Berlin Pass.
We hopped on the tram and headed 5 stops to Brandenburg Tor for our next attraction.
Madame Tussaud's Berlin
This is another fun family attraction that does not fail to entertain, this was the kids' first experience with a Madame Tussauds and there is always a section devoted to the home country in every Tussauds worldwide. We did not know much about some of these people, but we soon moved into the sport, music and movie section where faces became familiar.
We soon found ourselves flying home with E.T, getting selfies with Taylor Swift and doing Alber Einstein's hair. A special treat was the star wars exhibition at the end of the museum where there was a battle between Darth Maul and Obiwan, Vader and the stormtroopers, and of course, Luke, Leah and Han.
Best of all entry is free with a Berlin Pass.
When we exited the museum, we walked 100 meters to the front of the Brandenburg Gate. The gate is the symbol of Germany; for many years, it was trapped in no man's land between the front line of East and West Berlin.
We hopped back on the bus this time the 245 and travelled 3 stops getting off at the Berlin Dome Church.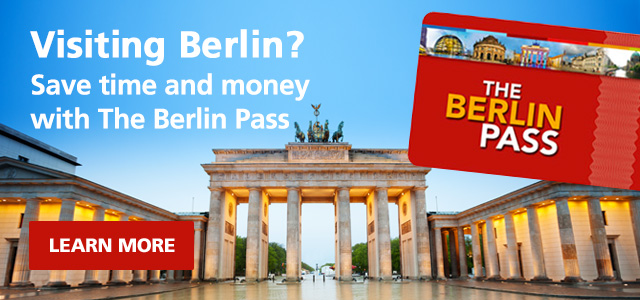 The Berlin Dome.
Berlin Cathedral (Berliner Dom), completed in 1905 and is Berlin's largest Protestant church. The church is located on Museum Island, just neat the DDR Museum, the dome is an outstanding example of Prussian high-renaissance baroque architecture.
The church is home to the crypt of the Hohenzollern dynasty, who are the former kaisers and the royal family of Germany, ninety sarcophagi and tombs are on display including those of the Prussian Kings.
The Dom's appearance has changed many times since the Middle Ages. First built in 1465 as a parish church on the Spree River, it was only finally completed in 1905 under the last German Kaiser -Wilhelm II. But it was damaged during the Second World War, and it took over 50 years to be reopened after restoration in 1993.
Sealife Berlin
Sealife Berlin follows the popular formula of these aquariums that you will find worldwide. You will find a range of tropical, fish, rays and small sharks on display. If you time your visit right, there are talks and feeding times to be seen. The Berlin version is on the small side compared to some of the other Sealife sites we have visited.
Where to eat in Berlin
We finished day 1 off with dinner at Asia Gourmet in Alexanderplatz. Asia Gourmet Berlin serves around 30 different Asian dishes in the 6-8 Euro price range. We had crispy chicken and noodles, crispy duck with vegetables, Pas Thai and Chicken Curry. The meals were in good size and value for money.
Day 2 with the Berlin Pass.
Big Bus Tour Berlin
We started off day 2 by using the Big Bus tour Berlin. We have used the hop on hop off tours in many cities around Europe and find them great ways to get an overview of the City. The Big Bus Tour is one of the many hop on hop off bus companies working Berlin. Big Bus Berlin has 2 routes that run in the winter months.
Blueline takes you into the old east berlin, you will pass Soviet Designer Boulevards and parts of the Berlin Wall that are leftover. Back at Alexanderplatz, we change buses and head off on the Red route. I do have to say the bus trips are at the whim of the Berlin traffic at times; it will be very slow as you move through the streets.
Topography of Terrrors
The Topography of terrors is one of the most moving museums in Berlin. It is located on Niederkirchnerstrasse, formerly Prinz-Albrecht-Strasse, on the site of buildings during the Nazi regime from 1933 to 1945 was the SS Reich Main Security Office, the headquarters of the Gestapo.
The museum had numerous photography displays depicting what it was like in Berlin living under the Gestapo and Hitlers storm troopers.
Check Point Charlie
We choose to get off at Check Point Charlie for our first stop of the day. After viewing this historical point in Berlin and a flashpoint of the cold war, we decided to check out the museum. The checkpoint charlie museum is an eclectic managery of exhibits, information, documentary and more. Make a plan on spending more than a few hours at this museum if you want to get the best out of it.
We ended up being stuck waiting for the bus for over an hour which turned day into night and ended our day.
Where to eat in Berlin
Just off Alexanderplatz where the Hop on hop off bus terminates near Hofbrau Munich's Berlin restaurant. Here you will find all things Bavarian being served from Pork Knuckle, Schnitzel, bratwurst, beer and more.
The food is excellent; the atmosphere is relaxed and we highly recommend a visit to Hofrabrau in Berlin.
Berlin Pass day 3
The DDR Museum
We started the day at the award-winning DDR museum. The DDR museum tells the tale through exhibits both real and multimedia of what it was like to live in East Germany.
There are full-size kitchens, longe rooms and more set up. You will see famous brands from the era, where East Germans took holidays and what types of food they ate and more. It is easy to see why this is such a highly rated attraction in Berlin and would be very nostalgic for many who lived in the DDR.
Museum Island
Museum Island in Berlin is a UNESCO world heritage site containing 5 museums. These museums are
Pergamonmuseum (Pergamon Museum)
Bode-Museum
Neues Museum (New Museum)
Alte Nationalgalerie (Old National Gallery)
Altes Museum (Old Museum)
We took the time to visit 2 of these museums while we were using the Berlin Pass. We visited the Neues and the Altes Museums and the highlight of this was the Neues Museum. The famous bust of the Ancient Egyptian queen Nefertiti is the showpiece exhibit in the Neues Museum. Best off the entry is free with the Berlin Pass.
The Berlin Dungeons
Just up the road from here is the Berlin Dungeons. The Dungeons franchise is popping up in cities all across Europe. We had previously been to the London Dungeons and the kids were mega keen to experience the Berlin Version.
The concept is half history and half horror as you are taken through the gory history of Amsterdam on a 1-hour experience with actors, lighting displays, props and much more
More things to see with the Berlin Pass
As we mentioned up top, the Berlin pass offers so many free entries to different attractions all across the City. Here you will find some more of the best places we could have visited
BERLIN RIVER CRUISE
BERLIN STREET ART WALKING TOUR
LEGOLAND® DISCOVERY CENTRE BERLIN
OLYMPIASTADION BERLIN
THE WALL MUSEUM EAST SIDE GALLERY
BERLIN BIKE TOUR
NATURAL HISTORY MUSEUM
LABYRINTH CHILDREN'S MUSEUM
Where to stay in Berlin
Berlin has accommodation to suit all types of travellers from singles, families and couples. You will find apartments, hostels, hotels and more. When we were in Berlin, we stayed at Meininger Alexanderplatz. If you're looking for more options, we recommend you use Trip Advisor for the best choice and price.
How to get to Berlin
Berlin Tegel Airport is situated in the northern borough of Reinickendorf, 8 km (5.0 mi) northwest of the City.
Berlin is serviced by many international airlines and budget carriers. the airport is a hub for Eurowings as well as a base for Germania and Niki. You can check the prices of international flights to Germany with cheapOair.
Tegel Airport doesn't have any direct rail connection but is connected by several bus routes and motorways as the airport is linked by several BVG bus lines, which offer connection to the U-Bahn and S-Bahn
Berlin Hauptbahnhof is where ICE regional, high-speed and international trains to Berlin now arrive. two major bus stations in Berlin: the central bus station at Funkturm, called ZOB Berlin, and the bus station at Berlin Ostbahnhof. Check your trains and bus and bus prices here.
You can book an airport transfer with Suntransfers, who we have personally used on many occasions.
You can book a rental car with AutoEurope and have it waiting for you at Berlin Airport. Alternatively, you can drive to Berlin from Poland, The Netherlands or any country in Europe.
Let us help you plan your trip to Germany
The following articles on our site will help planning your epic trip to Germany.
Money in Germany
The official currency of Germany and 19 countries in the European Union is the Euro. Euro banknotes come in amounts of €5, €10, €20, €50, €100. Euro coins come in the amounts of 1c, 2c, 5c, 10c, 20c, 50c, €1, €2. Officially there are €200 and €500 notes, but they are rarely used.
We recommend you join Transferwise multi-currency card for all your travelling money needs. Transferwise is up to 8 times cheaper than banks when it comes to transferring money from one currency to another. Transferwise supports up to 59 different currencies worldwide. You can track your spending on the Transferwise app and withdrawal funds around the world with your Transferwise ATM card. Sign up for Transferwise today
We always say if you can't afford travel insurance, you can't afford to travel. Here at Wyld Family Travel, we recommend Fast Cover Travel Insurance for our fellow Australians and AXA Travel Insurance for the rest of the world
If independent travel is not your thing, a tour might be just what you're looking for. Transport, accommodation and more are supplied for your holiday in Indonesia. We only recommend the best tours by Get Your Guide, Tourradar and Viator.
We hope this helps and inspires a visit to Germany for you. You can search for more articles on our Germany page. Email us at mark.wyld@wyldfamilytravel if you have any questions or would like help booking a trip to Germany.
About the Author
Mark Wyld is a father, husband and traveller. Having been to over 30 countries worldwide I think I know a thing or 2 about travelling with kids.  I have been writing about travel on our website for the last 4 years and have featured on numerous other websites. When I am not talking, dreaming and planning travel I can be found working in disability support .