Tokyo is an amazing city with so much to see and do. It can be overwhelming for first-time visitors, but with a little planning, it can be a great trip for the whole family. Tokyo with teenagers is an amazing destination full of surprises.
There are plenty of activities in Tokyo with teenagers, from exploring the city, and learning about traditional Japanese culture to visiting theme parks, the city is safe and easy to get around. Tokyo is also a great place to learn about Japanese culture and history. And, of course, there are plenty of famous anime and manga stores!
Know before you go. Our top Tokyo travel tips
Travelling to Japan with teens can be such an enriching experience for the whole family, and Tokyo is one of the top family destinations in Asia. Did you know that nearly all smartphones sold in Japan are waterproof because people use them even in the bath?
There are so many things to do on a Tokyo itinerary and having information on the best place to stay, how to get around, which currency to use and more is extremely important. Below, you will find some information for planning a hassle-free family vacation in Tokyo, Japan.
Where to Stay in Tokyo with Teenagers
Great vacations with teens start with some great vacation planning. When you are planning a trip to Asia with teens, you'll never be short of options for your family's accommodation in Japan.
In Tokyo, you find a range of hotels, apartments, and hostels for families on holiday. You will be sure to be able to find something to fit singles, couples, families, and groups on every budget on your family trip to Tokyo.
If you're not keen on any of our picks below or have specific needs for your teen travel holidays, we recommend using Expedia and Agoda to find the best prices for your family vacation to visit Tokyo.
Tokyo apartment alternative for your stay
If you prefer a home away from home-style accommodation when on your Japan trip with teenagers in Tokyo, then an apartment in central Tokyo is the best choice for you on your family vacation.
Many apartments come with both cooking and laundry facilities to make your Japan holiday easier and cheaper. You can search VRBO to find the perfect apartment in Tokyo for teens on your Japan trip with family.
Getting to Tokyo
Tokyo is one of the most popular destinations in Asia for family travel with teens. The capital of Japan is connected by roads, long distant buses, trains and planes all bringing people daily to the city. This makes Tokyo one of the easiest family travel destinations to get to in Asia.
Tokyo has 2 major airports servicing the city with passengers daily. Haneda Airport, officially known as Tokyo International Airport and Narita Airport both handle around 50% each of International arrivals. Haneda also handles around 90% of domestic flights in Japan.

If your flights have a long stopover, or you just want to relax before your trip you should consider getting a lounge pass with Priority Pass. Priority Pass has access to airport lounges all over the world. Search now for your lounge pass

You can use the JR Narita Express to travel between Tokyo and Narita Airport, and a combination of train and monorail from Haneda. You can choose to book a private transfer for door-to-door service.
You can catch a train to Tokyo train station from anywhere in Japan with ease. Japan is known as the pioneer of high-speed trains, book your Japan Train tickets today.
Tokyo can be reached directly from many cities, and indirectly from anywhere across Japan. Bus tickets are available at great prices. Bus travel with teens in Japan can add so many wonderful experiences for teens on vacation. Book your bus tickets around Japan with Busbud.
If you plan to road trip with teenagers in Japan you can hire a car at any International airport and dealership across the country. Book with Economy Bookings for the largest options.
How to get around Tokyo
Tokyo is serviced by an efficient and reliable public transport network. Tokyo is covered by a dense network of train, subway and bus lines, which are operated by about a dozen different companies. The train lines operated by JR East and the subway lines are most convenient for moving around central Tokyo. You can buy a Tokyo subway pass here.
Japan Rail Passes
Japan is a country that is known for its high-speed railways. The Shinkansen, or bullet train, is one of the fastest trains in the world. It can reach speeds of up to 320 kilometres per hour. The railway system in Japan is so efficient that the trains are almost always on time.
The Japanese railway system is one of the most extensive in the world. It consists of both high-speed bullet trains and slower local trains. Find a Japan Rail Pass to suit your holiday.
Weather in Tokyo
August is the hottest month in Tokyo with an average temperature of 26°C (79°F), so make sure you pack shorts and T-shirts. The coldest is January at 5°C (41°F), Tokyo will see snow around 10 times every winter, so pack some warm clothes. The wettest month is June with an average of 181mm of rain.
Seasonal essentials for travel to Tokyo
Sunscreen
Men's & women's sunhat
Tokyo for international visitors
International travel to Japan requires a bit more thought. You will need travel insurance in Tokyo. Medical care is not cheap and if you want good quality care it will cost you a fortune if you don't have travel insurance.
The official currency of Japan is the Yen. If you use your bank account from home, you will be stung with high transaction fees, while your mobile phone calls will all be charged at an international rate. These are just some of the things you need to think about.
Travel accessories for teenagers
For teenagers, travelling can be a fun and exciting experience. However, there are a few things that they need to take into account in order to make the trip as comfortable and safe as possible. One of these is ensuring that they have the necessary travel accessories.
Things to do in Tokyo with teenagers
Now that we have covered all the essential Tokyo travel tips for families, here are all the very best things to do in Tokyo with teenagers.
Tokyo Disney Resort
Tokyo Disneyland is the perfect place for a family vacation. With its exciting rides and attractions, there is something for everyone in the family to enjoy. Teens will especially love Tokyo Disneyland because of its thrilling rides and lively atmosphere.
A visit to Tokyo Disneyland is a must for any family looking for an unforgettable family vacation in Tokyo.
The park has seven themed areas: the World Bazaar; the four traditional Disneylands: Adventureland, Westernland, Fantasyland and Tomorrowland; and two mini-lands: Critter Country and Toontown.
The park features classic Disney attractions such as Space Mountain and the famous Disney Castle. Tokyo attractions for teenagers do not get better than Disneyland. Book your Disneyland Tokyo tickets today.
Tokyo DisneySea
The second Disney Park in Tokyo is DisneySea. Tokyo DisneySea is a must-see for any teen visiting Tokyo. Themed after nautical exploration, the park is full of fun rides and attractions that will keep you entertained for hours.
This park features seven themed areas: American Waterfront, Lost River Delta, Arabian Coast, Mysterious Island, Mediterranean Harbor and Mermaid Lagoon. Teenage attractions like Disney are hugely popular in Tokyo with kids.
From Journey to the Center of the Earth, and thrill ride to Nemo & Friends SeaRider, there is something for everyone at Tokyo DisneySea. Be sure to check out the shops and restaurants in the park, they are all themed around different ports of call from around the world.
Yomiuriland Theme Park
Widely regarded as the best theme park near Tokyo is Yomiuriland. Yomiuriland has 44 attractions from thrilling rides to family-friendly rides.
Theme parks are the best things to do in Tokyo for teenagers
Much like other theme parks, you will find a wide range of shops and restaurants onsite. The park is continually evolving with new and exciting activities every season, such as fun swimming activities and amazing light shows! Book your Yomiuriland tickets for Tokyo with teens.
See more of Japan: 35 unbelievable things to do in Osaka with teenagers
Things to do in Tokyo with teenagers – The Skytree
If you're planning a trip to Tokyo for teenagers, be sure to add the Skytree to your Tokyo must-see list! The world's tallest free-standing tower is an impressive sight, and its observation decks offer stunning views of the city.
Take the elevator up 350 meters and stand in awe or horror at the glass floor observation deck. Even if you're not a huge fan of heights, the Skytree is worth a visit, trust us, your teenage kids will love it! Book your Skytree entry.
Warner Bros. Studio Tour Tokyo – The Making of Harry Potter
Embark on a spellbinding journey with your teenagers at the WB Studio Tour, Tokyo, where the world of Harry Potter comes to life!
This enchanting experience invites families to delve into the captivating wizarding world, uncovering the secrets of Hogwarts School of Witchcraft and Wizardry. Explore meticulously crafted sets, marvel at iconic props, and get up close with the costumes of your favourite characters.
Immerse yourselves in the magic of Harry Potter and create unforgettable memories as you discover the wonders that await at the WB Studio Tour Tokyo. This is the largest indoor Harry Potter attraction and follows the same formula as the London Warner Bros Studio tour. Get ready to be spellbound and book your tickets today.!
Dress up in traditional Japanese clothing
If you're visiting Tokyo and are looking for a unique and fun experience, then you must rent a traditional Kimono or Yukata. It's a great activity for teens and adults alike while visiting Asakusa or Ueno while wearing a Japanese traditional Kimono.
This makes an outstanding memory and is one of the cool things to do in Tokyo with teenagers. Choose your traditional dress package today.
Sushi making class
One of the most popular foods worldwide is Sushi, which you can find in most towns or malls across the world. If you're looking for a unique and fun experience while in Tokyo, then look no further than a sushi-making class!
This is a great activity for teens as it's something different from the usual tourist attractions in Tokyo. Not to mention, you'll get to eat delicious sushi that you made yourself! Book your Sushi-making fun in Tokyo
Epic family holiday destinations: 8 countries for the best family vacations in Asia
Places to go in Tokyo with teenagers – Tokyo Tower
Tokyo Tower is a popular tourist attraction in Tokyo. It is a communications and observation tower in the Shiba-Koen district of Minato, Tokyo, Japan.
The tower was completed on April 2, 1958. It is 333 meters tall and has two observation decks at 150 meters and 250 meters above ground level. The higher deck provides 360-degree views of the city making it one of the most interesting places to visit in Tokyo for families.
Book your entry ticket today or why not get a combo ticket that includes the Skytree and the nearby Sumida Aquarium
Round 1 Stadium – coolest places in Tokyo
Do you want 5 levels of fun in Tokyo?, Round 1 Stadium offers a variety of activities, including all-you-can-play arcade games, trampolining, batting cages, archery, bubble soccer, rollerblading, electric carts, karaoke, and even a bucking bull to try. You can do a three-hour session at Round 1 Stadium for under $10 USD. A great way to spend a few hours in Tokyo on a budget.
Tokyo Hop-on, hop-off bus
The Tokyo hop on hop off bus is always popular with family travellers. A sightseeing bus tour in Tokyo is a great way to give you an overview of the city. The bus route takes you to all the best Tokyo attractions, so you can see everything from the Tokyo Skytree to the Shinjuku Gyoen National Garden.
This tour bus allows you to get out and visit all the top Tokyo attractions and hop back on the next bus when it appears. Book your Tokyo bus tour today.
Visit Japan: 29 amazing things to do in Kyoto with teenagers
Madame Tussauds in Tokyo
The Madame Tussauds Wax Museum in Tokyo is a popular tourist attraction. It is the first and only wax museum in Japan.
The museum has over 100 wax figures of famous people from all over the world, including Japanese celebrities, international celebrities, and historical figures. Madame Tussauds is an iconic brand located in many cities around the world and well worth visiting in Tokyo with teens. Book your tickets today.
Tokyo experiences with teens – Scenic helicopter flight
Soaring over Tokyo and taking in the beautiful view of the unforgettable Tokyo skyline is a once-in-a-lifetime experience. Going up high on a panoramic helicopter flight and seeing everything from the Tokyo Tower to the Imperial Palace, can be one of the most exciting things to do in Tokyo with teens.
Try Japanese Archery
Japanese Archery is a traditional sport that has been practised in Japan for centuries. It is also known as Kyudo. The sport is based on Zen Buddhism and the principles of Zen are applied to the practice of archery. Go from the practice range to the shooting range as you dress in your traditional uniform. Book this experience today.
Fun things to do in Tokyo with teenagers – ghost tour
Ghost story tours are a popular tourist attraction in many parts of the world. They are usually conducted by a guide who tells stories about the ghosts and legends of the area.
The tour guides often dress up in period costumes to add to the atmosphere. The tours usually take place at night, when it is dark and spooky. In Tokyo, you will make short stops at points of interest to hear about the history, ghosts, and monsters connected to the areas of the tour.
This is one of the best teenage things to do in Tokyo. Teens in Tokyo will love the fright night experience of this tour.
Family travel tips: 9 dark tourism destinations to visit with teenagers
Learn to draw Manga in Tokyo
Manga is a Japanese style of comics that has been popular in Japan for decades. It is now gaining popularity in the United States and other countries.
Manga drawing is a form of art that has been around for centuries. It originated in Japan and has since spread to other parts of the world. Manga drawings are typically characterised by their large eyes, thick black lines, and dramatic poses.
On your vacation to Tokyo, why not take a Manga drawing class in Tokyo led by a professional manga artist? Create your own design to take home as one of the best Tokyo souvenirs you can have. Take a drawing class on your trip to Tokyo with teenagers.
Samurai & Ninja Experience in Tokyo for Young Adults
The Samurai and Ninjas have been made popular in Western movies as a part of Japanese culture. The Samurai were not just warriors but also skilled in many other fields such as calligraphy, painting, poetry, and playing musical instruments.
When you're in Tokyo why not learn first-hand about the Samurai and Ninjas in this great Tokyo experience? You will learn swords, jujutsu, shuriken, and more on this Tokyo must-do with teens adventure. You can book your Premium Shinobi Samurai Experience at Asakusa Dojo.
Tokyo Imperial Palace
Tokyo Imperial Palace is the largest and most important tourist spot in Tokyo and Japan. It is located in the Chiyoda ward of Tokyo. The Palace was built in 1868 and it served as the residence of Emperor Meiji, his consort Empress Shoken, and their successors until Emperor Hirohito's death in 1989.
The palace is a mix of Japanese traditional architecture with some Western elements. The grounds are divided into four main sections: the East Gardens, Central Gardens, West Gardens and Imperial Palace Outer Garden. All visits to Tokyo with teens should include some history of the country. Book an Imperial Palace Self-Guided Audio Tour
Team Lab Planets Tokyo
I don't even know how to really describe this, it's like an interactive installation where you become one with the space. It is a location full of digital art installations and exhibitions, which combine technology, art, design and the natural world.
There is a falling flower gallery, or you can walk up a waterfall or stand in a sphere with free-floating bubbles.
It is a mind-blowing experience and not to be missed in Tokyo, you will be talking about your time at Team Labs for years to come.
Visit the Asakusa area
Asakusa is a popular tourist destination on the best Tokyo itineraries for families. It is a great place to visit for those who want to experience traditional Japanese culture. The neighbourhood is a great place to stay and has many attractions, such as Sensoji Temple, Nakamise Shopping Street, and Kaminarimon Gate.
You will find unique souvenirs and a trendy upscale dining scene in the popular Tokyo neighbourhood. The best way to see all that Asakura has to offer is with a guided walking tour.
Things to do in Tokyo with kids – Exploration Game
If you are looking for great vacations with teens ideas, then look no further than a family exploration game. Instead of a traditional sightseeing tour travel memory in Tokyo with a scavenger hunt.
On your hunt, you will discover both popular and lesser-known sights of the city. You won't need a guide, just download the app, go to the starting point, and begin the adventure. Download the exploration game today.
Expert travel advice: Everything you need to know about planning a trip to China with teens
See the Cherry Blossoms in Tokyo
The cherry blossoms in Tokyo are a must-see for any tourist. They are beautiful and the best time to see them is during spring.
One of the most popular areas in Tokyo to see Cherry Blossoms is Yanaka, which is located in the northeast of Tokyo. It has a lot of cherry blossom trees and it's famous for its old temples and shrines.
Things to do in Tokyo with teenage girls – High Tea
High Tea started out as a quintessentially British thing. This afternoon tea tradition involves savoury sandwiches, cakes, pastries, and of course, tea. For mothers and daughters, it's a cherished ritual that often brings them closer together.
If you're looking for something to do in Tokyo with teenage girls, then you should experience high tea firsthand and there are a few places to go in Tokyo. But be warned, it can be quite addictive! Once you've had a taste of those delicious treats, you'll likely want to indulge again and again.
You will find the best High Tea or Afternoon teas in Tokyo at The Four Seasons Hotel and the Aman Hotel.
The Official Nintendo Store
The official Nintendo Store in Tokyo is located in the Shibuya district of the city, and it is a must-visit destination for fans of Nintendo games and merchandise.
The store features a wide variety of products related to Nintendo, including games, consoles, accessories, and merchandise. Visitors can also find limited-edition and exclusive items that can't be found anywhere else.
The store also has interactive displays and play areas where customers can try out the latest games and consoles. The store is a popular destination for tourists and locals alike, and it's a great place to find unique and hard-to-find items related to Nintendo. Access is easy via the metro through Shibuya station.
Animate – the world's biggest Anime store
The world's largest anime shop, Animate Ikebukuro Flagship Store, opened on March 16, 2023, in Tokyo, Japan, featuring an extensive collection of anime merchandise, including limited edition items and event-exclusive products, as well as various events and interactive experiences for anime fans to enjoy.
The shop covers a total of 10 floors and features a wide range of anime goods, including manga, DVDs, Blu-rays, figures, and cosplay items, as well as a cafe and a theatre space for screenings and live events. Animate Ikebukuro Flagship Store is expected to become a must-visit destination for teenage anime enthusiasts from around the world.
Canoeing – things to do with teenagers in Tokyo
Canoeing is a great way to explore nature and get outdoors. It's a fun, adventurous activity that can be enjoyed on lakes, rivers and rapids. You can go at your own pace or with a group of friends.
Canoeing is a great way to see a city like Tokyo from a unique angle. In Tokyo, we recommend using the Tokyo Great Kayaking Tour which offers evening tours and central canal tours.
Amusement Arcades in Tokyo
Amusement arcades offer a variety of entertainment options for teenagers as a great way to spend a few hours having fun. They can play the newest video games or indulge in some classic pinball machines of the past.
Some of the more modern arcades will have Laser Tag, bumper cars and indoor mini golf as options. Arcades are popular because they offer things to do that are fun and affordable to do, most arcades have food and beverage options for you. There are some great arcades in Tokyo including Club SEGA, Tokyo Leisure Land and Super Potato.
Shibuya Sky Observation Deck
The SHIBUYA SKY Observation Deck is a must-see attraction for families and teens visiting Tokyo.
The deck offers breathtaking views of the cityscape and is a great place to take pictures. Visitors can also learn about the history and culture of Tokyo from the deck's informative displays. Book your tickets today.
Art Aquarium Museum
Japan is known for its unique and innovative art, and the art aquarium in Tokyo is no exception. This one-of-a-kind museum features an ever-changing display of fish and other sea creatures in creative and artistic tanks.
Art Aquarium is a Tokyo-based art gallery that specializes in fish-themed artworks. Art Aquarium has since become one of the most popular tourist destinations in Tokyo, attracting visitors from all over the world. Book your entry tickets today.
Consider staying in a hostel with your teens: Read why we love staying in hostels with our teens
Watching baseball on family holidays in Tokyo
Baseball is one of America's most beloved pastimes, and watching baseball in Tokyo is an experience like no other. Tokyo is home to two professional baseball teams, the Yomiuri Giants and the Hanshin Tigers, and both teams have passionate fans.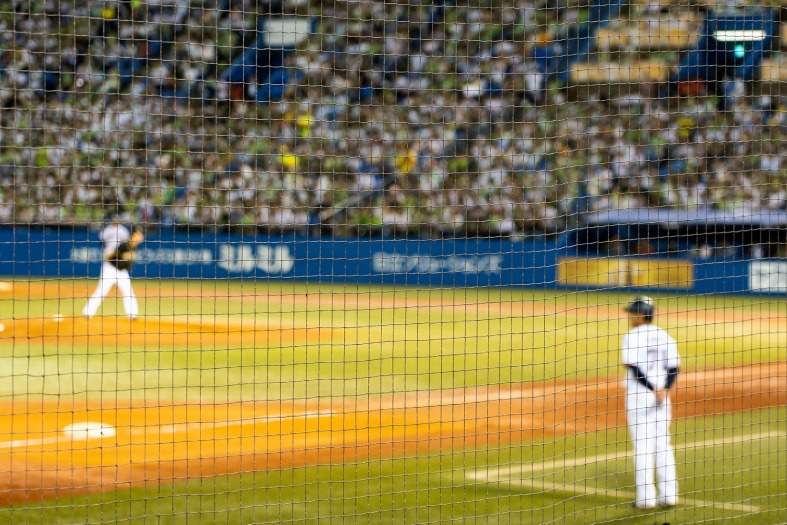 Watching a baseball game in Tokyo is a great way to experience Japanese culture. The games are well-attended and the fans are very enthusiastic. If you're a baseball fan, watching a game in Tokyo is a must-do.
Watching Football in Tokyo
When it comes to watching soccer in Tokyo, there are plenty of options. For the diehard fans, there are matches played at the city's many stadiums. The J. League is the top level of the Japanese football league system.
It is one of the most successful leagues in Asia and is known for its high level of competition, as well as its dedication to developing young players. In Tokyo teens, you can watch FC Tokyo.
Shibuya Crossing
Shibuya Crossing is a famous pedestrian intersection in Tokyo, Japan. It is located in the bustling Shibuya district and is known for its massive crowds and vibrant energy making it a popular destination.
The intersection is especially famous for its scramble crossing, which is a type of pedestrian crossing where all traffic is stopped, and pedestrians can cross the intersection from all directions at the same time.
The crossing can be seen from the windows of the Shibuya Station building and is a popular spot for photographers and tourists. If you're visiting Tokyo, Shibuya Crossing is definitely worth a visit. It's a great place to people-watch and soak up the energetic atmosphere and bright lights of the city.
There are also plenty of shops, restaurants, and cafes in the area, making it a great place to spend a day or an evening. Access is easiest via Shibuya station.
Karting in Tokyo
The next time you're looking for an indoor activity that is both exciting and challenging, look no further than indoor go-carting! Indoor go-carting is the perfect activity for groups of friends or family members looking to add a little friendly competition to their day.
With its fast speeds and sharp turns, indoor go-carting is sure to get your heart racing. In Tokyo, you can go indoor Karting at Chiba or outdoor karting at Kisarazu.
You can also have an amazing quirky experience of Karting around Shinjuku. There are 1-hour experience or 2 hours and you can even hire a cartoon character costume to go with it!
*Just a heads up that you will need an International driving permit issued by your local authority of your country such as AAA, CAA OR AA. We found the process easy in Australia.
Looking for inspiration to plan a vacation with your teens? Read our top 15 best vacations with teens in 2024
Tokyo fun places for teenagers -Indoor Skydiving
Indoor skydiving is a new trend that is catching on with teenagers that travel. It is a safe way to experience the thrill of skydiving without having to go through all the hassle of getting on an aeroplane and going to a place that is outside the city centre that may require transportation.
The indoor skydiving facility in Saitama Greater Tokyo has been attracting many teens who are looking for something a little different and exciting on their vacation to Tokyo. Flystation Japan is where you need to head for your indoor skydiving.
See more of Asia: All the very best things to do in Seoul with teens
Hybrid Leisure Land Tobu Zoo
Tokyo's Tobu Zoo is a unique hybrid attraction that appeals to families and teens alike. The zoo is home to a wide variety of animals, both native to Japan and imported from other countries.
In addition to the animal exhibits, the zoo also features a water park, an amusement park, and a botanical garden.
The zoo's location in the heart of Tokyo makes it easily accessible by public transportation. It is also one of the few zoos in the world that is open 365 days a year. Visitors can purchase tickets for individual attractions or an all-inclusive pass that gives access to all of the zoo's facilities.
Whether you're looking for a fun day out with the family or an afternoon of adventure, Tobu Zoo has something for everyone. Do not miss out on this amazing Tokyo attraction.
Have a food experience with a local
How do you make the best teenage family vacations? Food! Some teens cook some teens get served, why not take a cooking class or eat with a local family on your family vacation to Japan
Maybe experience what the locals eat or take any number of different cooking classes in your city of choice. Food plays a big part in local cultures, whether it be cooking it, or eating it. Search and book your Tokyo food experience.
Need an island paradise? Visit Bali with teens for an epic family holiday
The most Instagramable shots in Tokyo
The best family vacations for teens always incorporate something they love. Social media is important and teenagers can use Instagram to stay connected with friends, share their interests, and express themselves creatively.
We recommend visiting Hamarikyu Gardens, Roppongi Hills City View and Tokyu Plaza Omotesando in Harajuku for the best Instagram shots in Tokyo.
Alternatively, book yourself, an Instagram tour with a guide who will take you to all the hotspots in the city. Check prices on the best Instagram tour in Tokyo.
Tokyo TikTok inspiration
If you're in need of some inspiration, look no further than TikTok. This app is full of creative content and talented people from Tokyo From fashion to beauty to DIY, there's something for everyone on TikTok. Here are just a few of our favourite Tokyo TikTok accounts to help inspire you and plan for your Tokyo for teens vacation.
Professional photoshoot in Tokyo for families
As our kids get older, we spend less and less time with them making family travel memories. One excellent way to capture some of these important family vacations with teenagers moments is to hire a professional photographer for a few hours to make some lifelong memories for you on your family vacation with teens.

The photographer will supply everything, your family just needs to provide the smiles for your Tokyo with Teenagers photoshoot. Book an unforgettable family travel memory today and secure your family travel photo shoot.
Street Art in Tokyo
Street art is found throughout the world, but it is especially prevalent in major cities. Cities are home to a wealth of street art, from graffiti on building walls to pieces painted on lanes and bridges.
Street art provides a unique aesthetic for these places, with topics including current events, pop culture, portraits and more. Street art is a very popular free thing to do in Tokyo and attracts tourists and teenagers alike.
Street Art in Tokyo can be found at the Koenji Mural City Project and Tennozu Isle with its large whorehouse murals.
10 Pin Bowling in Tokyo with Teenagers
If you're looking for a bit of fun, friendly family competition in Tokyo with kids, then 10-pin bowling might be just the family activity in Tokyo for you and your teen travellers. You can go 10-pin bowling in Tokyo at a number of different locations in the city centre, and 10-pin bowling has to be one of the best family-friendly things to do in Tokyo with teenagers.
Most bowling alleys these days are more entertainment centres featuring amusement, food and drink options. You will find some of the best bowling locations in Tokyo below.
Not sure what your teens need on vacation? Read our guide on all the best travel essentials for teens
Axe Throwing in Tokyo for Young Adults
Axe Throwing is a new phenomenon that is sweeping around the world. Tokyo is home to Asakusa. No experience is required, as the staff at Asakusa will run you through the safety precautions before giving tips and hints on how best to throw an axe.
If you are looking for unique experiences for teenagers in Tokyo then axe throwing could be it. Axe Throwing is one of the awesome things to do in Tokyo on your family vacation. For more information, click through to Asakusa.
Bike riding in Tokyo
Teenager vacations need to be action-packed! bike riding is a popular family activity when travelling with teenagers. Bike riding allows you to experience your location, either in town or out in the surrounding areas. You will find Tokyo bike tours are the best way to go if you want to get an up-close and personal experience of the city on your holiday with teens.
You will either have a tour guide to point out all the important attractions in Tokyo or a map to follow. The Tokyo bike tours will take you on a family vacation 2-wheeled adventure. Alternatively, you can find locations that hire bikes and let you explore the best of Tokyo on your own. Plan a Tokyo bike tour today.
Family holidays in Tokyo – Going to the cinema
Great vacations with teens have a mix of everything! Watching a movie is popular with teenagers anywhere in the world. Going to the cinema in Tokyo with teenagers is a great evening activity. You will find state-of-the-art screens and sound for you to watch the latest blockbusters in Tokyo cinemas
In Tokyo, you will find multiplex, IMAX, 3d and specialty cinemas showing art-house and indie films. A cinema is one of the best places to visit in Tokyo at night with teens. You can use this Trip Advisor guide to the best cinemas in Tokyo.
Escape rooms in Tokyo for teens
For those new to Escape rooms, this is a quick run down. An escape room, also known as an escape game, is a physical adventure game in which players solve a series of puzzles and riddles using clues, hints, and strategies to complete the objectives at hand.
Escape rooms may consist of a large, single room, or span multiple rooms. Players are given a set time limit to unveil the secret plot which is hidden within the rooms. If your travelling teen likes this stuff, it is definitely one of the top things to do in Tokyo with teenagers. You can find 2 of the best Tokyo Escape rooms below
Shopping in Tokyo with teens
Teens love shopping at home and abroad, shopping for clothes, shopping for souvenirs and more. You might find your luggage gets lost in transit, or you arrive and find you do not have the appropriate clothing for your family vacation to Japan.
For these reasons, we have included some travel tips for families on where to shop in Tokyo for teens. If you find you need to or if you just want to do some shopping in Tokyo with teenagers, this section has some great recommendations.
Tokyo is a city that has everything. It is a place where you can find anything from clothes to souvenirs and even food. Tokyo has many shopping centres, but the most popular one among teenagers is Shibuya 109.
This shopping centre has many different boutiques with different styles of clothing, so it's easy to find something for everyone's taste.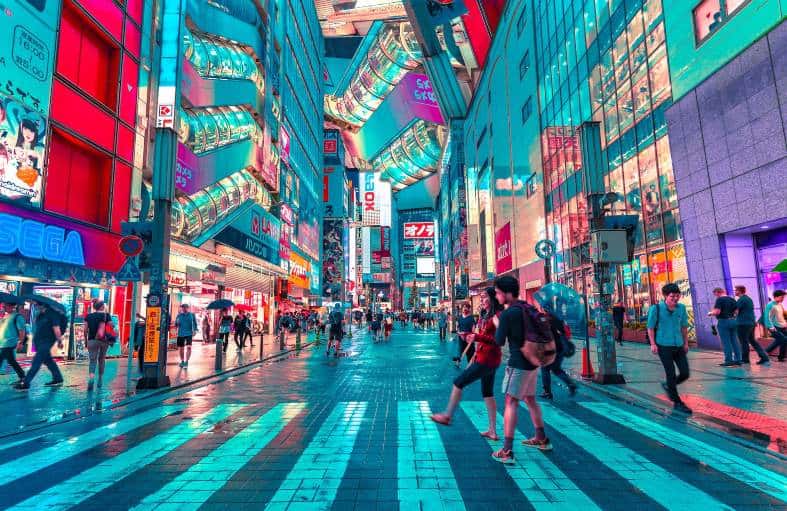 Tokyo also has many other shopping centres such as Shinjuku, Ikebukuro and Ginza which are all worth visiting. Ginza. Ginza is the ritziest and biggest upscale shopping district in Tokyo, home to the city's posh boutiques and glamorous department stores, such as the classic Mitsukoshi and avant-garde Dover Street Market Ginza.
On a global scale, it's comparable with Oxford Street in London or Fifth Avenue in New York.
See more of the world: Visit Montreal with teens for an epic vacation
Free things to do in Tokyo with teens
Tokyo offers, some of the best free things to do with your teenage family members. These free city of Tokyo activities are perfect for keeping everyone happy and entertained without having to spend any money.
There are also plenty of affordable restaurants and shops where you can shop for souvenirs without breaking the bank. Some of our recommendations for free activities in Tokyo for families are as follows.
Carrot Tower observation deck
The views from Metropolitan Government Building
Japan Airlines' hangar tour
Godzilla light show at Toho cinema
Sensoji Temple
Annual events in Tokyo that teens will love
Tokyo is a city with a rich culture and history. There are many annual events that take place in Japan that can be enjoyed by families and teens visiting Tokyo. Some of these events include:
Tokyo Cherry Blossom Festival – festivals are held all over Japan during a 2-week period in Spring.
Tokyo Film Festival – Held every November, the festival welcomes a movie starts from all over the world
These teenage holiday activities in Tokyo help to make it a vibrant and exciting city to visit on your next family travel vacation.
Day trips from Tokyo with teens
While staying in the city with teenagers on your family holiday, a day trip to see a bit more of Japan is recommended. There are some fun trips for teenagers and families from Tokyo to make out of the city. The best vacations for teenagers usually include at least one day trip from Tokyo.
Below we have a couple of day trips from Tokyo recommendations for families travelling with teenagers. There are also so many more things to do on your vacation with teenagers when you add a day trip from Tokyo
Day trip to Osaka
Osaka is a city in the Kansai region of Japan. It is the country's second-largest city after Tokyo and one of the world's largest cities by population.
Osaka for teens has a lot to offer tourists, from its rich history to its modern attractions. Here are some things you can do on a day trip from Tokyo. Visit Osaka Castle and explore the grounds, explore Dotonbori, one of Osaka's most popular districts with lots of restaurants and shops to explore.
Osaka is home to Universal Studios Japan, which is modelled after Hollywood's Universal Studios in California. Oska makes an easy day trip from central Tokyo.
Mount Fuji
Mount Fuji is a dormant volcano that is located in the centre of Honshu, Japan. It is the highest mountain in Japan and it has been an important cultural icon throughout history.
The mountain can be seen from Tokyo on clear days, and it can be reached by taking a day trip from Tokyo. There are many different guided tours available for visitors to choose from, but they all have one thing in common, they will take you to see Mount Fuji's beautiful scenery! Book your day tour to Mount Fuji.
Fun restaurants in Tokyo for teens
Vacationing with teens absolutely needs to include a brilliant meal to remember the family holiday. Family travel with teenagers is a wonderful thing, and bonding over a meal of Japanese food at the end of the day or even during it is a great way to connect with your teen travellers. Having a meal with family is one of the top things to do in Tokyo with teenagers.
Alice's Family Restaurant
As the name suggests, this restaurant pays homage to Alice in Wonderland. It is one of the sights to see in Tokyo with kids. You can sit in different themed areas such as The Endless Tea Party, The Eternal Masquerade and the Picture Frame Gondola area.
The restaurant serves a mix of Japanese and English foods, as, after all, Alice is from England. Put this on your Tokyo itinerary with kids. For more information, Alice's family restaurant search here.
Owl Village Cafe and Bar – animal cafes
In Tokyo, a new cafe has opened up that is sure to please animal lovers and those looking for a unique dining experience. The Owl Village Cafe and Bar offer customers the opportunity to dine amongst owls. That's right, owls!
The cafe has several different themed rooms, each with its own family of owls. The food menu features a variety of owl-themed dishes, such as the Owl Burger and the Wise Old Owl salad. And of course, there are plenty of opportunities to take photos with the resident owls.
Whether you're looking for a fun place to take the kids or a new and interesting spot for date night, the Owl Village Cafe and Bar is sure to please. We highly recommend you reserve a time and date as this is highly popular.
Dawn Avatar Robot Cafe, Tokyo
Be ready to be greeted and seated by robots at the Dawn Avatar Robot Cafe in Tokyo. Once at your table, you will have a mini robot who takes your order and chats with you, how cool does this sound?
The robots make coffee and bring drinks, but in reality, they are controlled by people who have a disability that allows them to work from home. Such an amazing endeavour is this robot restaurant.
Street food in Tokyo
Street food is a popular way to eat in many parts of the world. It's a quick and easy way to get some delicious local food without having to go to a full restaurant. Street food can be found in many different styles and options.
Some of the most well-known street foods include tacos in Mexico, Zapiekanka in Poland, Dan Dan noodles in China, and Shawarma in Middle Eastern countries. Street food in Japan often has its origins in the cultural history of the past.
Some of the most popular Tokyo street foods include Melon Pan Bread (soft bread inside and a sugary crunchy outer crust), Dango (Japanese dumplings on a stick) and Ikayaki (a squid on a stick).
USA inspiration: Las Vegas with teens is an amazing getaway in the US, full of fun and adventure
Frequently asked questions about Tokyo
There are so many frequently asked questions about Tokyo, especially from families travelling with teenagers.
Tokyo is one of the best family city breaks in Japan and one of the best places to vacation with teenagers. There are so many things to consider when you are planning your family vacation to Tokyo Here is a list of some of the most frequently asked questions about Tokyo to help you make your family vacation to Japan easy and hassle-free.
What is the legal drinking age in Japan?
Japanese law prohibits individuals under the age of 20 from drinking alcohol 
Is Tokyo safe for families on holiday?
Yes! It is one of the safest cities in the world. But no city is perfect, and Tokyo is no exception, you may experience petty crime such as pickpocketing
How do I call the Police in Tokyo?
Call 110 to report an accident or crime to the police call centre. Call 118 to report an accident or crime at sea to the Japan Coast Guard. Call 119 to report a fire, ask for an ambulance or rescue service, or to contact an emergency call centre
Do I need to tip in Japan?
Tipping in Japan is not customary, and can actually be offensive to staff.
Can I drink tap water in Tokyo?
What type of power sockets are used in Japan?
For Japan, there are two associated plug types, A and B. Plug type A is the plug that has two flat parallel pins and plug type B is the plug that has two flat parallel pins and a grounding pin. Buy a type A or B adaptor for your trip to Japan.
Where are the best places to stay in Tokyo for teenagers
At the top of the article, we suggested some accommodation choices for your holiday in Tokyo with kids. If you are looking for a wider variety of choices for your family stay in Tokyo please find below an interactive map from Booking.com for you to find your perfect stay for your Japan vacation.
Are you looking to book flights, hotels, apartments, tours, airport transfers, travel insurance and more for your vacation with young adults? Are you just not sure what travel companies you can trust to book your family travel online?

We have a family travel resource page that is full of companies that we personally use, trust and book through for all our family vacation trips from a weekend away to long-term travel with older children around the world. Click here to search our travel resources page.
We hope this article from us here at Wyld Family Travel has you inspired to visit Japan with teenagers. There are so many things to do in Tokyo with teenagers that will have you entertained for your family's whole stay in the city.
Travelling with young adults has just as many issues as travelling with young children. Choosing the best teenage vacation destinations can be time-consuming. Planning a family holiday with teenagers and tweens can be stressful, and finding the best tips for travel is essential.
Use our Travel with Teenagers Destination Guides from all over the world for your next family vacation inspiration to make your family vacations with teens epic.
For more amazing ideas on where to holiday, click through to our Japan Destination Guide page for more brilliant inspiration.
---
More travel inspiration for your trip to Asia
---
Author bio:
Father, husband, traveller, and chief destination manager here at Wyld Family Travel. When Mark is not talking about travel or planning travel you will find him working in disability support. Mark is a family travel advocate, having travelled to over 45 countries with his kids from 10 months old, through to their teenage years. You will find his work here and on other popular websites.
Mark Wyld
Content Creator