As far as Poland tourist attractions visiting Zakopane is something you most people associate with Winter. Yes Zakopane is a winter wonderland for anyone who loves snow and winter sports. The Tatra National Park Poland features many Ski resorts. The town of Zakopane Poland is not just about winter. Zakopane in summer turns into a place for hikers, mountain bikers, and sightseers. There are many things to do in Zakopane in any season
Where is Zakopane
Zakopane Poland was first mentioned in the records in 1676. Zakopane is located in Southern Poland in the Tatra mountains close to the border with Slovakia. The nearest major city in Poland to Zakopane is Krakow. Zakopane is 2 hours drive from Krakow through rolling hills and green countryside.
Its a very scenic trip as you get closer to the mountains and Zakopane looms large, Zakopane has a healthy population of 27,000 people. This population fluctuates depending on the time of year. This amazing mountain getaway is a beautiful place to visit from the traditional houses to the picturesque mountains to the friendly Polish people.
Facts about Zakopane:

Zakopane has an elevation of between 800 and 1000 meters

Zakopane Poland points of interest are visited by over 2.5 Million tourists a year.

Zakopane bid unsuccessfully for the 2006 winter Olympics.

Zakopane elevation is up to 1000 feet above sea level.
Things to do in Zakopane – Krupówki Street
Krupowki Street is the main pedestrian thoroughfare in the town of Zakopane Poland. The street is over a kilometre long and begins at the base of Gubalowka cable car station. Krupowki is lined with restaurants, bars, shops, and hotels.
When the sun comes out you will find thousands strolling the street window shopping and people watching. Zakopane resttaurants and bars are packed with people enjoying good food and drinks. Grilled meats seem to be the speciality of Krupowki.
I can attest to this I had one of the best pork knuckles I have ever had. The atmosphere is alive on Krupowki especially in the height of the summer and winter seasons. You will find horse-drawn carriages and street performers all along the street. Walking Krupowki is one of the most popular things to do in Poland
An afternoon spent strolling eating, drinking and enjoying life on Krupowki is a must. Visiting Zakopane in summer, you will find a market selling tradition Tatra crafts and products from the region such as handcrafted wooden souvenirs and local produce.
Where do we stay in Zakopane Poland?
Pokoje Gościnne Za Wnukiem is located in Zakopane, just 300 m from the popular Krupówki Street. Free WiFi access is available in this homestay. It offers accommodation in classically furnished rooms featuring wooden elements. Most of the rooms come with a private bathroom. At Pokoje Gościnne Za Wnukiem you will find a garden. Other facilities offered at the property include a shared lounge and a children's playground. An array of activities can be enjoyed on site or in the surroundings, including skiing, cycling and hiking. The property offers free parking.
For the latest booking prices click→

HERE←
[/box]
Family Travel Tip: You will find people dressed as characters such as Paddington bear who approach the kids. These guys are going to want money. All along Krupowki, you find amusement centers with games like air hockey and pinball machines.
What to see in Zakopane – Traditional cheese making
Oscypek, Oszczypek is a smoked cheese made of salted sheep milk exclusively in the Tatra Mountains region of Poland. No other cheese can be called Oscypek. This regional speciality is a protected trade name under the EU's Protected Designation of Origin geographical indication. Just outside Zakopane on the open fields at the base of the mountains, you will find wooden huts dotted all over. You can go in these huts and watch the traditional making of the cheese and buy it freshly made. The Zakopane cheese is pressed into wooden moulds and comes in all shapes and size. Cheese production in the Tatra was first mentioned in the 15th century. We tasted the Zakopane cheese and it is a really creamy and smooth cheese with a rubbery texture. This Zakopane cheese is sometimes eaten with jam, a little strange for foreigners. It really is one of the things to see in Zakopane.
Traditional Foods to try when visiting Zakopane Poland
The cuisine of the Tatra region is very tasty but also uses much fat and has more calories than usually needed. This is traditional because in the older days the people working in the cold and mountains needed more energy to get through the day of work
Zurek Soup – traditional Polish soup. A distinctive feature of this exclusive food is its sour taste. Compulsory additions to zurek soup are hard-boiled eggs and a peculiar Polish sausage.
Kwaśnica Soup – Is made of pickled cabbage and meat (one or two kinds): mutton or pork, often with a smoked rib. Original kwaśnica is eaten with potatoes (that should be boiled separately, not in the soup!) or with bread
Hałuski – is noodles made of grated potatoes, salt and flour
Moskole – are traditional cakes, baked on a griddle. They're made of boiled potatoes, flour, water and salt. When cooked they should be a little bit crispy crust and soft centre
kluski śląskie – Kluski slaskieare are kind of potato dumplings. Kluski slaskie are eaten with meat sauces such as Goulash.
Mountain biking Tatra National Park Zakopane
Mountain biking in Zakopane is only allowed on already established tracks in the surrounding mountains. Some of the best tracks to follow are:
Pod Reglami road runs from the ski jump to the Siwa Polana meadow in Chocholowska Valley. Its best done in the morning to avoid walkers who use the trail also.
Chocholowska Valley Road is the where the previous ride ends. Siwa Polana meadow to Polana Chcocholowska refuge. You can rent a mountain Bike in the Chcocholowska Valle
There are plenty of established roads in varying conditions that lead into the mountains. Mountain biking in Zakopane requires a high level of fitness when accessing the mountain trails. Always play it safe and take a mobile phone in case you get lost or injured
Zakopane in summer – ski jump
Heading up the Zakopane ski lift can be an exciting family travel adventure. Wielka Krokiew is the official Polish name of the Zakopane ski jump. It is a regular venue for the FIS world ski jumping championships. The stadium has a capacity of 40,000 people. The ski jump is open even in the offseason. It is available for tourist's and for summer practice sessions for the local ski jumpers. The ride to the top of the mountain is not for faint-hearted. The ski lift takes you up vertically to the top of the ramp where you get a real indication of the height and slope of this venue. The views from the top are fantastic and well worth the journey. The views provide an amazing panoramic over the town and the mountains behind. Just don't look down when you are going up. The Ski lift may not be a likely thing to do in Zakopane in summer but it's still a thrill.
---
Zakopane & Tatra Mountains Private Full-Day Tour from Krakow. Check prices now
---
Family travel tip: At the bottom of the ski jump a small photo both sells pictures captured of you on the way up to the top of the ski jump. Makes for a great souvenir.
Zakopane Attractions – Nearby Villages to visit
Image By Zygmunt Put Zetpe0202 – Own work, CC BY-SA 4.0, https://commons.wikimedia.org/w/index.php?curid=21359691
ZAB – From this small mountain village tourists can take in the breathtaking panorama view of the Tatra Mountains, the Babia Gora Range and the Gorce Mountains. Make sure you have a meal at one of the amazing traditional restaurants.
BIALKA TATRZANSKA – This village offers some great mountain walking and biking paths. In the winter there are over 20 ski lifts you use and numerous tradition bead and breakfasts to stay in. This village is only 20 kilometres from Zakopane
MALE CICHE – Is known as the prettiest village in the vicinity of Zakopane Poland. Amazing food, challenging skiing and a picture-perfect location surrounded by the forest of the Tatra mountains. 14 km from Zakopane.
NIEDZICA – This village is situated on the banks of the River Dunajec. This town is home to some amazing historic building. A 14th-century church and castle ( The castle is pictured above ).
It's well worth making a day trip from Zakopane to see some of these other amazing locations. The area around Zakopane Poland is stunning
---
Tatra Mountains Thermal Pools Visit from Zakopane
.
Check
availability
now
---
Tatra Mountains Zakopane Poland – Gubalowka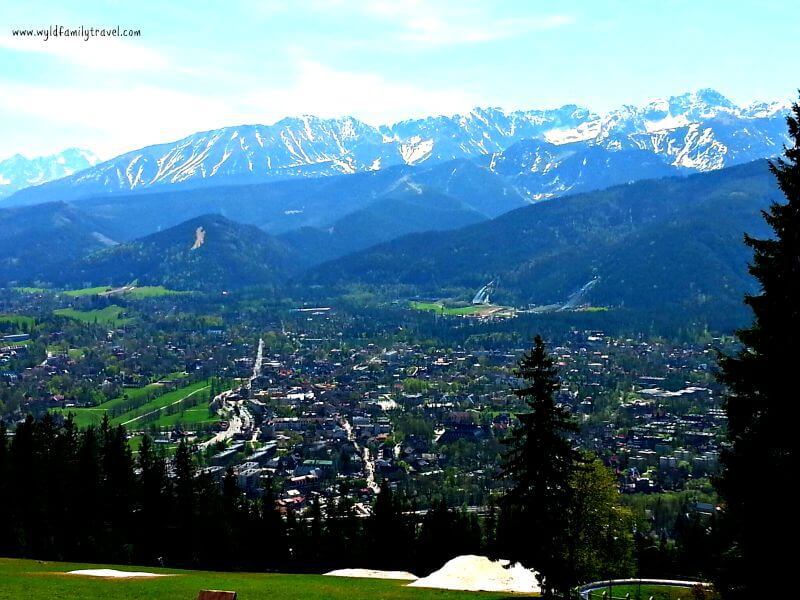 Gubalowka sits at 1123 meters looking down on Zakopane directly above the town in the Tatra National Park. The trip to Gubalowka begins with a cable car ride up the hill. The Zakopane cable car takes 4 minutes and costs a bit over a euro. The ride up the hill is amazing as you ascend upwards through pine tree's and the town slowly disappears beneath you.
At the top of Gubalowka, you will find restaurants and bars. The sun deck terrace is one of the most magnificent spots to have drink, food or ice cream in all of Europe.  A soft serve ice cream called Lodi. You will encounter machine's everywhere selling Lodi in summer in Zakopane.. The view from the top is amazing as it sweeps over the Tatra mountains.
Snow covers the tops of the highest peaks even in summer. There is a smaller market at the top selling all sorts of Polish handicrafts and souvenirs. The market seems to stretch on forever on either side of the road at the top hill.
You will be bombarded with the smell of grilled meats, hamburgers, and hot dogs while trying to avoid market stall holders trying to sell you anything and everything. For hikers, there are many trails leading off from the top of Gubalowka. In winter ski runs lead down the hill.
Family travel tip: At the top of the mountain there is a toboggan run for both kids and adults, a rope course, horse rides and numerous other activities to keep the young one's amused.
Zakopane things to do – Architecture and design
Many houses' and building in Zakopane are built according to the traditional style of the area out of wood. The design of the buildings is inspired by the regional art of Poland's highland region known as Podhale.
This style of the building is now known as the Zakopane style. All new building up to 1914 had to be built in this way. It is still very popular today and a walk around town will tell you that many new buildings are still being built in this traditional style.
Everywhere you look there is amazing wooden buildings, both single and double story. The house is truly unique you won't find this sort of design anywhere else in the world. I found myself wandering different streets admiring how people had stuck to the traditional building designs but had added small touches of their own.
Zakopane is one of the most popular Poland tourist attractions. We at Wyld Family Travel think it is definitely worth a visit and should be on everyone's bucket list who visit southern Poland.

Bonus attractions: The Sanctuary of Our Lady of Fatima
This church was built in honour of Pope John Paul II. It was actually built as an offering to God for saving the Pope after an assassination attempt in 1991. The church is actually only one of 4 churches in Poland that were consecrated by the Pope himself. The church is visited by over 300,000 pilgrims a year.
FESTIVAL of HIGHLAND FOLKLORE
Every summer since 1965 the Festival of Highland Folklore has been held in Zakopane. Like all great cultural events, this one was born out of a small beginning with strong ties to the regional history of the area. What began with 4 local folk singing groups has since expanded to encompass performers and traditions from other countries making the Festival of Highland Folklore an international event in Zakopane. Zakopane comes alive during the festival with music, dance and singing. This festival makes it possible to learn about other cultures and traditions while still having amazing entertainment for the whole family.
---
Transfers from Krakow / Balice to Zakopane check
HERE
for latest prices
---
Travel from Krakow to Zakopane
Arrive by the Kraków Zakopane bus in around 2 hours by public transport, or guided tours to this town provide amazing value for money for the international visitor, outdoor and adventure lovers. There are at least 4 bus companies running a bus on the Kraków Zakopane route. Zakopane things to do yes there is something for everyone.
Weather in Zakopane Poland
July is the hottest month in Zakopane with an average temperature of 15°C (58°F) and the coldest is January at-4°C (26°F) with the most daily sunshine hours at 7 in July. The wettest month is June with an average of 120mm of rain. This type of weather means Zakopane is great in winter and amazing in summer
The nearest International airports to Zakopane are Krakow and Katowice. There are many things to see in Katowice worth a look while you are in Southern Poland
---