Embark on a remarkable family adventure in the captivating city of Split, Croatia! Unleash the spirit of adventure and create lifelong memories as you immerse yourselves in the rich history and awe-inspiring beauty of this remarkable Croatian gem.
As a seasoned traveller with teenagers I can tell you this was one city that was high on our list of places to visit with teens but what exactly was there to do in Split with teenagers?
Split offers an ideal blend of cultural heritage, breathtaking landscapes, and vibrant city life, making it an enticing choice for all ages. From exploring the ancient ruins of Diocletian's Palace to indulging in thrilling water sports along the sparkling Adriatic Sea, there's something for everyone in Split.
Know before you go. Our top Split travel tips
Travelling to Split with teens can be such an enriching experience for the whole family, with the Dalmatian Coast in Croatia being one of the top family destinations in Europe. Did you know that Split has a history dating back over 2000 years?
There are so many things to do in Split for families, and having information on the best place to stay, how to get around, which currency to use, and more is extremely important. Below you will find some information for planning a hassle-free family vacation in Split, Croatia.
Where to stay in Split with teenagers
Great vacations with teens start with some great vacation planning. When you are planning a trip to Croatia with teens, you'll never be short of options for your family's accommodation in Split. You'll find a range of hotels, apartments, and hostels for families on holiday.
You will be sure to be able to find something to fit singles, couples, families, and groups on every budget on your family trip to Split.
| Hotel Name | Hotel Facilities | Review Rating |
| --- | --- | --- |
| Balatura The Fine Bed & Breakfast | Free WiFi, Family rooms, Free continental breakfast,room service, garden, terrace | 9.8 |
| Apartments Cordis | Free WiFi, swimming pool, parking included, terrace,desk | 9.6 |
| Beachfront Apartmants Zanic | Free WiFi, private beach, Hopuse keeping, Laundry, Bar, room service | 9.2 |
| Radisson Blu Resort & Spa | Swimming Pool, Free WiFi, Family rooms, spa,indoor play area, baby sitting | 8.6 |
| Art Hotel | Outdoor swimming pool, Free WiFi, Airport shuttle, Room service, Restaurant, Bar | 8.4 |
| Argentum Luxury Apartment | Apartment, 3 bedrooms, Free WiFi, 2 shoers, 2 toilets, kitchen, air conditioning | 9.1 |
If you're not keen on any of our picks above or have specific needs for your teen travel holidays, we recommend using Hotels.com and Trip Advisor to find the best prices in Split for your family vacation to Croatia.
Split apartment alternative for your stay
If you prefer a home away from home-style accommodation when on your Split trip with teenagers in Croatia, then an apartment is the best choice for you on your family vacation. There are so many options for singles, families, and budget-friendly options in Split as well. You can search VRBO for tourist-class apartments in cities worldwide.
If you're looking for something a bit fancier, discover Plum Guide's exceptional luxury apartments, handpicked for their stunning views, prime locations, and indulgent amenities. With meticulous quality checks and a focus on unique experiences, they offer the perfect blend of luxury and comfort. Experience the extraordinary and create unforgettable memories in these truly special accommodations
Getting to Split
Split is one of the best family destinations in Europe for family travel with teens. The city is one of the most popular destinations on the Croatian coast. It is connected by long distant buses, trains and planes all bringing people daily to the city. This makes Split one of the easiest family travel destinations to get to in Croatia.
You can fly into Split International Airport, located 19 kilometres from the city and takes around 30-45 minutes to transfer into Split. Split is serviced by a number of airlines such as Jet2, Easyjet, Eurowings and full-service carriers such as KLM, AirFrance and Finnair.
You can book an airport transfer straight to your hotel door.

If your flights have a long stopover, or you just want to relax before your vacation to Split, you should consider getting a lounge pass with a Priority Pass. Priority Pass has access to airport lounges all over the world. Search now for your lounge pass

You can catch a train to Split via Zagreb in around 6 hours, you can book your tickets with Omio. There are usually at least 6 trains a day.
Split can be reached directly from 176 cities and indirectly from anywhere across Europe. Flixbus tickets are available at great prices. Bus travel with teens in Europe can add so many wonderful experiences for teens on vacation. Book your bus tickets to Split with Flixbus
If you want to follow your own schedule and make trips out of the city, then car hire is a great option for teens in Split. It allows you the freedom to stop and start where you like, cars can be hired from Airports and dealerships in major cities across the country.
How to get around Split
The main tourist area in Split is easily walkable, however, there is a public transport system consisting of buses to help you get around the city. There are 19 routes in the city itself and some suburban lines to places of interest such as Trogir (bus 37) and Klis Fortress (bus 22). Taxis are readily available, a better option is to take an Uber, where you know the price upfront.
*On many occasions, we found that the bus schedule was different to the ones displayed on the timetables at the bus stop. It may be an idea to plan your days well in advance or visit the tourist information centre on the Promenade for up-to-date information.
Weather in Split
Split, experiences a Mediterranean climate, which produces hot, dry summers and mild, wet winters. Here's a breakdown of the average weather for different seasons in Split. Split can be visited all year round.
Summers in Split are hot and dry, with average temperatures ranging from 25°C to 30°C (77°F to 86°F). Perfect for beachgoers and outdoor activities. Autumn in Split is generally pleasant, with temperatures gradually cooling down. Average temperatures range from 18°C to 24°C (64°F to 75°F).
Winters in Split are mild but wet. Average temperatures range from 7°C to 13°C (45°F to 55°F). It's a quieter time to visit and explore the city's cultural attractions. Spring (March to May): Spring in Split brings mild temperatures and blossoming nature. Average temperatures range from 11°C to 17°C (52°F to 63°F).
Seasonal essentials for travel to Split
Sunscreen
Men's & women's sunhat
Split for international visitors
International travel to Split requires a bit more thought. You will need to buy a travel insurance policy for your family holiday to Croatia. Medical care is not cheap and if you want good quality care it will cost you a fortune if you do not have travel insurance.
The official currency of Croatia is the Euro. If you use your bank account from your home country you will be stung with high transaction fees, while your mobile phone calls will all be charged at an international rate. These are just some of the things you need to think about for your holiday in Split with kids.
Where can I go in Split if my teenager is ill?
If your teenager is ill in Split we recommend you go to KBC Split (Klinički bolnički centar Split), located at Spinčićeva ulica 1. It's a large medical facility with various departments including an emergency department providing comprehensive healthcare services.
Travel accessories for teenagers
For teenagers, travelling can be a fun and exciting experience. However, there are a few things that they need to take into account in order to make the trip as comfortable and safe as possible. One of these is ensuring that they have the necessary travel accessories to make your journey with teens hassle-free.
Things to do in Split with teenagers
Travelling with teenagers can be a unique and rewarding experience. Teenagers often have their own interests and preferences when it comes to travel, making it important to plan a vacation that caters to their needs. In this article, you will find plenty of options to keep teenagers engaged and entertained while on vacation in Split.
Go to Split Croatia Beaches
There are some amazing beaches within walking distance of Split Old Town. Put on some board shorts and sunglasses, and hit the sand.
First up, we have Bačvice Beach, known for its sandy shores and crystal-clear turquoise waters. It's a popular spot with beachside cafés and even a fun game called Picigin that locals play in the water.
Another great option is Kaštelet Beach, nestled beneath Marjan Hill Park. It offers a peaceful atmosphere and stunning views of the Adriatic Sea. Perfect for getting in your swimsuit laying out your beach towel and working on your tan.
And don't forget about Ovčice Beach, perfect for sunbathing and water sports enthusiasts. So, pack your sunscreen, grab your Bluetooth speaker and get ready for some unforgettable beach fun right at your doorstep!
Klis Fortress
Klis Fortress is famously known as a filming location for the iconic TV series Game of Thrones. This medieval fortress, with its ancient walls and commanding position, served as the backdrop for several memorable scenes.
As you explore its impressive structure, you'll feel like you've stepped into the world of Westeros. Let your imagination soar as you envision the epic battles and political intrigues that unfolded within these walls.
Klis Fortress offers a unique blend of history and pop culture, making it a must-visit destination for Game of Thrones enthusiasts and history buffs alike. Get ready for an adventure that bridges the gap between fantasy and reality!
See more of Croatia:
Stand-up paddle boarding in Split
If you're looking for a new way to enjoy the water on your holiday, stand-up paddle boarding (SUP) might be just the thing. SUP is a relatively new sport that involves standing on a large, surfboard-like paddleboard and using a long paddle to move through the water.
Split is the perfect location with the calm waters of the Adriatic making it perfect for trying stand-up paddleboarding. There are a number of different options in Split, Croatia including a Stand-Up Paddleboard Night Glow Tour, and the Adriatic Sea and River Stand-Up Paddleboard Tour
Diocletian's Palace and the Split Old Town
Prepare to be amazed as you step into the world of ancient Roman architecture and immerse yourselves in centuries of history. The Split Old Town and Diocletian's Palace are actually one and the same.
Imagine the Old Town as a living, breathing part of history, with Diocletian's Palace at its heart.
The palace, built by the Roman Emperor Diocletian in the 4th century, forms the core of the Old Town. It's a vast complex with stunning architecture, encompassing not only the palace itself but also a labyrinth of narrow streets, squares, and buildings
The Split Old Town and Diocletian's Palace are UNESCO World Heritage Sites. It is an architectural marvel, or should I say a maze of narrow streets filled with charming shops and cafés.
Expert travel advice: Do I need an anti-theft bag in Croatia?
Explore the Underground Chambers
Explore the underground chambers, sometimes known as the Basement Halls are a labyrinth of halls and rooms that once were the solid foundation for the Palace above. You can wander the moss-covered rooms and find evidence of what was once above these amazingly preserved substructures.
There are information boards in most rooms with some artefacts that were found in them during excavation works. There are 2 sections to the Basement halls that you can access, one to the left as you enter from the Promenade that has the ticket office and one to the right. The attendant will direct you to the ticket booth if you are unsure and miss having a ticket.
With its fascinating history and captivating beauty, Diocletian's Palace promises an unforgettable journey back in time. Get ready to create lasting memories and uncover the secrets of this extraordinary place.
*It can get a little chilly down there in some of the rooms and is a little dark. If you struggle with smaller spaces this may not be for you or you can just stay in the larger rooms. We found visiting the Basement Halls in the afternoon once the Cruise ship had left was the best time.
Climb Saint Dominus Bell Tower
I am terrified of heights and I can guarantee this is one thing you must do in Split. Climb the Saint Domnius Bell Tower for panoramic views, and soak in the vibrant atmosphere of Peristyle Square.
The first section of the climb is using some seriously steep steps. They seemed to go straight up and both Marley and I were worried about the rest of the way up. It may seem daunting at the start but once you get up the first section it turns into a metal staircase to the top. It is about 188 steps to the top and the views once up there are beautiful.
*We highly recommend the views from the Bell Tower and our top tip is to get your tickets early and wait to climb the Tower when the Tourist Information Desk is shut for their lunch break. They cannot sell tickets to the tower at this time and we found that it was the least busy time.
Stroll the promenade
Located adjacent to Diocletian's Palace is the Riva, a seafront promenade lined with tall palm trees, bustling cafés, and seating benches. This vibrant area is dotted with restaurants, shops, and cafes, creating a bustling atmosphere during the day.
Stretching from the Green Market to Trg Republike the main section of the Riva offers a people chance to get out of the sun, admire the beauty of the waterfront and people watch. At dusk the promenade becomes packed with people taking in the sunset enjoying street performers, having dinner and enjoying drinks.
We recommend getting up early one morning and grabbing a coffee at around 7-7.30 to fully take in the beauty of the area before it gets crowded with tourists visiting.
Travel Europe: All the best things to do in Budapest with teens
Diocletians Palace Virtual Reality Experience
Like many cities around the world, Split has a VR experience showcasing its most popular attraction. With the help of virtual reality, you can step back in time and witness Diocletian's Palace as it once stood.
Explore different historical periods, walk through its halls, and witness significant events with this fun and educational attraction.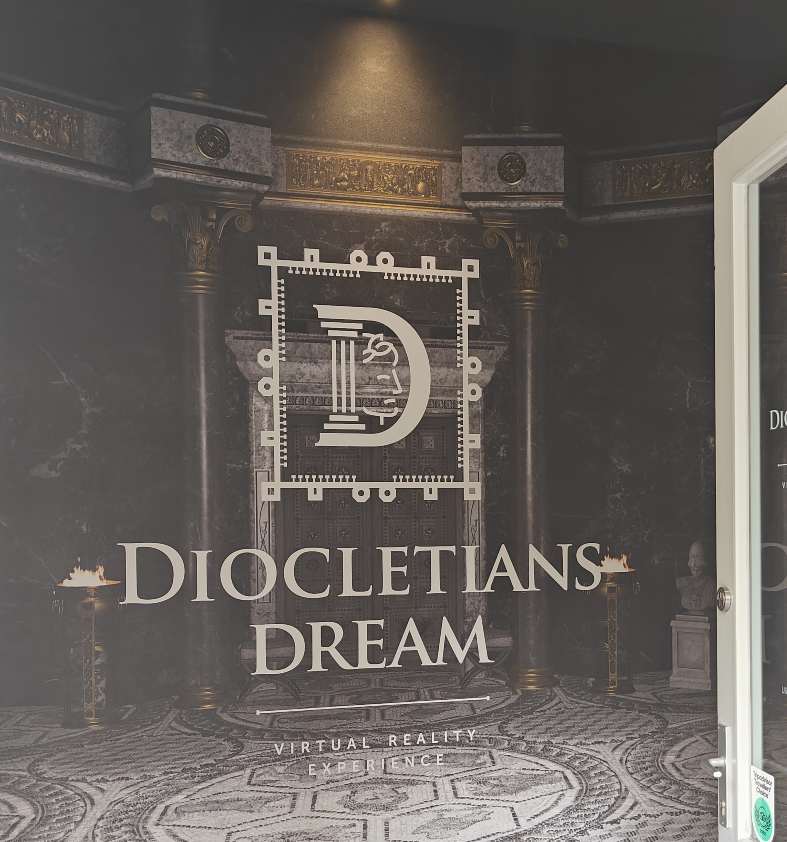 Engage your teenagers with this unique and interactive experience, making history come alive before your eyes.
Book the Split Diocletian's Palace Virtual Reality Experience for an unforgettable virtual journey through this ancient marvel.
Rub Gregory of Nin's Big Toe
Yep, this is actually something you should definitely do in Split with teenagers. This gargantuan statue lies right near the Golden Gate just outside the wall of Diocletian's Palace.
Gregory of Nin is an important figure for Croatians as he was known for defending the Croatian culture, and language. The statue once stood in the centre of Diocletian Palace but was moved by occupying Italian forces in WWII before finding its current home where he sits now.
Rising 8.5 meters high it is as if you rub his big toe on his left foot it will bring you luck! With all the rubbing over the years his bronze toe has now become golden so you can't miss which one to rub. We rubbed his toe so here's to good luck!
Expert advice: Buy the best and most durable suitcase for teens with our top guide
Canyoning near Split
Canyoning is a fast-growing extreme sport that combines hiking, swimming, and rappelling down steep canyons and waterways. It's perfect for those who are looking for an outdoor adventure with a thrill.
Rivers and creeks near Split provide the perfect setting for this activity, which is suitable for teenagers and families alike.
On this Split adventure, explore underground caves and tunnels, jump into natural pools, and swim beneath waterfalls in the heart of the canyon. Hotel pickup and drop-off from central Split are included. Book your canyoning experience today.
Split Frog Museum
There is a quirky and offbeat attraction here called the Frog Museum. Located in the heart of Split, this charming little museum showcases an extensive collection of over 500 frog-related items, from adorable figurines to quirky artwork.
Prepare to be amazed and amused as you explore this unique world of amphibious wonders. The Frog Museum is a testament to the passion and creativity of its founder, who dedicated years to curating this fascinating collection.
It's a hidden gem that will surely spark laughter and curiosity in visitors of all ages. So, get ready to hop into a truly quirky adventure at the Frog Museum and make unforgettable memories with your teenagers!
More fun in the sun: Fabulous things to do in Lisbon
Enjoy live music in the Peristyle
Every night in Doiclecians Palace at the Peristyle you will find some live music. The cafe called Luxor sits on one side of the small square puts out small cushions on the stone steps that line the square.
You are welcome to sit on them as long as you purchase some drinks from the roaming waiters. It's great when the weather is warm and even better to people watch as the band or solo artist serenades you as the sun goes down.
The cushions go fast especially ones that are a little further from the band's speakers. You will see plenty of people trying to move the cushions to even further places from the Luxor but they are quickly returned to within the cafe's reach.
Visit the Green Market
The Green Market, also known as Pazar by the locals, is a vibrant and bustling marketplace located in the heart of Split.
The market is conveniently situated along the eastern side of the historic Diocletian's Palace at the intersection of Hrvojeva and Bana Jelačića streets, making it easily accessible for both locals and visitors.
The market operates daily, from early morning until around midday, so it's best to arrive early to fully experience the lively atmosphere and ensure the availability of the freshest products. You will find fruits, meats, bread, honey, local specialties, liquors, and more on sale.
Visiting the Green Market in Split is not just about shopping; it's also an opportunity to interact with friendly vendors and learn about the traditional foods and products of the region.
If you're spending a week in Split Croatia you are sure to visit the Green Market occasionally. You will find souvenirs for teens in Split to buy. Stop at Perarna Pazar a bakery inside the market and grab a Börek they are amazing as well as the sweet pastries. The apple ones were our favourite.
Smart travel with teens advice: Realistic tips to save on a trip with teens
Game of Thrones Museum
Split was one of the locations for filming Game of Thrones. The city has certainly embraced this by having a number of activities tied to the TV show. One of the most popular is the Game of Thrones Museum.
Step into the world of Westeros with this unique attraction. Discover authentic props, costumes, and interactive displays from the iconic TV series. Get up close to the legendary Iron Throne and immerse yourself in the realm of your favourite characters.
This museum is a haven for Game of Thrones fans, offering an unforgettable experience that merges fantasy with reality. Book your entrance ticket to the Game of Thrones Museum in Split and prepare for an epic adventure!
Family fun adventures in Split – Segway Tour
How do you make the best vacations for teenagers? Segway! There is nothing more fun than zipping around a city on a Segway, and for teens, this has to be one of the best things to do in Split.
Segway tours are for the whole family, you will be given instructions and a short amount of practice time before you set off on your adventures in Split with teenagers.
Marjan Hill
At Marjan Hill in Split, Croatia, you and your teenagers can explore a beautiful natural park offering stunning views and various attractions. You can hike or bike along the trails that wind through the pine forests and enjoy the fresh air and scenic landscapes.
Visit the famous Telegrin viewpoint for panoramic vistas of Split, the surrounding islands, and the Adriatic Sea. There's also a zoo nearby where you can see various animal species.
Additionally, you can visit the medieval hermitage of St. Jerome and the charming Church of St. Nicholas. Marjan Hill is a fantastic destination for outdoor activities and enjoying the natural beauty of Split.
See more of the world: Unmissable things to do in Dubai
Watching a football match
If you and your teenagers are football fans and would like to attend a football match in Split, Croatia, you can consider visiting the local football club, HNK Hajduk Split. HNK Hajduk Split is one of the most popular and successful football clubs in Croatia and has a passionate fan base.
The matches are typically held at the club's home stadium, Stadion Poljud. Check the HNK Hajduk Split website for the most up-to-date information on match schedules, and ticket availability.
Poljud Stadium skywalk and rope swing experience
Experience the ultimate adrenaline rush at Poljud Stadium in Split! Take your summer adventure to new heights with the Poljud Stadium Skywalk and Rope Swing experience. Imagine walking on the edge of the iconic stadium, enjoying breathtaking views of the city and the Adriatic Sea.
But that's not all! Brace yourself for an exhilarating rope swing, soaring through the air like a superhero. It's a thrilling activity that will leave you and your teenagers feeling pumped and ready for more action in Split! Book your stadium walk today.
How to travel stylishly and comfortably? Read our guide for the Top must-have reversible travel clothes for teens
Ziplining near Split
Are you ready for an exhilarating adventure? Look no further than the Zipline Croatia experience in Split! Get your adrenaline pumping as you zip through the stunning Croatian landscape, soaring above breathtaking canyons and lush forests.
This thrilling activity is perfect for teenagers seeking an exciting summer adventure. Feel the rush of the wind, embrace the freedom of flight, and create unforgettable memories with friends.
Don't miss out on this heart-pounding ziplining experience that will leave you wanting more!
Split Hop on hop off bus
In Split, there is no traditional hop on hop off bus tours like you would find in Rome, Stockholm, Oslo or Paris. Split is mostly famous for its old town which buses can't enter and its beaches.
What you will find in Split is some hybrid type hop on hop of bus tours that include, walking tours and visits to sites outside the town centre such as Klis Fortress and the surrounding countryside.
Walking Tours – the best of Split with teens
A walking tour can be a fantastic way for families to explore a new city or destination while on vacation. A walking tour allows families to immerse themselves in the local culture and history of a place, providing a fun and educational experience for both kids and adults
Some of the best walking tours in Split include the Evening Walking Tour of Diocletian's Place in Split, Split Game of Thrones Tour and the Open-Top Bus and Walking Tour of Diocletian's Palace
Whole family holidays: The best cities for multigenerational vacations
Experience Croatian culture through food tours
Embark on a food adventure with your teenagers and discover the flavours of the Split through a food tour. These food experiences not only teach you about local foods but also offer a gateway to culture.
From savouring local delicacies to learning traditional cooking techniques, food tours ignite a passion for cooking and eating global cuisines. Some of the best food tours in Split are The Historical & Gastro Treasures Tour with Green Market, Split Walking & Food Tasting Tour and even a vegan food tour of Split
Kayaking in Split with teenagers
Experience the ultimate thrill of Split Sea Kayaking on this epic 3-hour tour! Paddle through crystal-clear waters, exploring hidden caves and breathtaking coastal landscapes.
Get ready for an adventure that will leave you exhilarated and craving more. Perfect for teenagers seeking an adrenaline rush and a memorable summer experience, this exciting activity combines fun, excitement, and the beauty of the Croatian coast.
Perfect for the whole family, dive into the turquoise waters for an unforgettable kayaking adventure in Split!
Best travel tips to travel with teens: Get teens connected with the Orange holiday sim in Europe in 2023
Split Tuk Tuk tour
Experience Split with a tuk tuk Tour! Get ready for a fun and exciting journey through the vibrant streets, ancient landmarks, and breathtaking nature of this stunning Croatian city.
From exploring the historic streets around Diocletian's Palace to cruising along the sparkling coastline. This tuk-tuk tour will last long in your memory for an unforgettable mix of culture and excitement. It is one of the fun things to do in Split Croatia for teenagers.
Choose epic vacation locations! Plan a trip to Oslo, Norway with teens
Stuff to do in Split – Museum of Illusions
A museum of illusions is a unique and interactive attraction that aims to challenge your perception and play tricks on your mind. These museums provide a fascinating exploration of optical illusions, mind-bending puzzles, and sensory experiences that will leave you questioning your senses.
You can visit the Split Museum of Illusions, where you will find explanations in both English as well as Croatian to explain the trickery your eyes are seeing.
Eat Ice Cream, eat all the ice cream!
One thing Split does well is ice cream, you will find an ice cream shop on nearly every corner of the old town. I don't know if there is a city anywhere else we have visited that had this many ice cream shops.
You can get it by the cone, cup and container. Some of the most popular places we tried ice cream were Gelateria Riva on the Promenade, Geletaria Emiliana and aRoma Geletaria.
In some of the speciality ice cream shops, their flavours will change daily so if you love what you have don't be scared to get a second serve straight away, especially if you have limited time in Split!
Visit Asia with teens: 38 awesome things to do in Seoul for teens
The most Instagrammable shots in Split
The best family vacations for teens always incorporate something they love. Social media is important and teenagers can use Instagram to stay connected with friends, share their interests, and express themselves creatively.
We recommend visiting The Old Town, Klis Fortress and Marjan Hill for the best Instagram shots in Split.
Search for Ancient Egypt in Split
Split seems like the least likely place to search for ancient Egypt but within Dioclecians Palace there are 2 Sphinx that can be found out of the original 12 that were bought to the city. One is right in the Peristyle and is easy to find but the other may have you wandering a little.
While the first Sphinx is well preserved and tucked up on a ledge out of some people's reach the other has not had the same care. It is located at the Temple of Jupiter or the Baptistry and unfortunately was beheaded.
To the right of the Temple, you can also see one of the last remaining original pillars that used to surround the front of the temple.
Professional photoshoot in Split
As our kids get older, we spend less and less time with them making family travel memories. One excellent way to capture some of these important family vacations with teenagers moments is to hire a professional photographer for a few hours to make some lifelong memories for you on your family vacation with teens.
The photographer will supply everything, your family just needs to provide the smiles for your Split with teenagers photoshoot. Book an unforgettable family travel memory today and secure your family travel photo shoot.
Reduce the headache: Our top tips for stress-free, epic family holidays
Visit Salona
Just a few kilometres from the old town area of Split in a residential neighbourhood is Salona. Salona is an ancient Roman city with remarkable ruins. Dating back to the 1st century BC, the site offers a glimpse into the past.
Visitors can explore the remains of amphitheatres, basilicas, thermal baths, and defensive walls, among other structures. The ruins of Selona showcase the grandeur and architectural prowess of the Roman Empire, providing a fascinating experience for history enthusiasts.
Bike riding in Split
Teenager vacations need to be action-packed! Bike riding is a popular family activity when travelling with teenagers. It is a great way to explore a new city with teenagers on vacation. A bike-riding tour makes sightseeing more fun and adventurous. Bike tours are a great option for families looking to explore the city together.
Most bike tours offer a knowledgeable guide who can provide interesting facts and history about the city's landmarks and neighbourhoods. You can go on a number of Bike tours including a 3-hour guided bike tour, and an Old Town and Marjan Park Bike Tour
Visit the US with teenagers: All the best things to do in New York!
Family holidays in Split – Going to the cinema
Great vacations with teens have a mix of everything! Watching a movie is popular with teenagers anywhere in the world. Going to the cinema in Split with teenagers is a great evening activity. You will find state-of-the-art screens and sound for you to watch the latest blockbusters in Split Cinemas
In Split head to The Mall of Split where you will find Cinestar Cinema or Centre One Split where you can find Cineplex.
Escape rooms in Split for teens
Escape rooms are adventure games where players must solve puzzles and riddles in order to escape a themed room within a set time limit. They have become a popular form of entertainment, offering a unique and immersive experience for families and teens.
Escape rooms may consist of a large, single room, or span multiple rooms. Players are given a set time limit to unveil the secret plot which is hidden within the rooms. If your travelling teen likes this stuff, it is definitely one of the top things to do in Split with teenagers.
In Split, you can find the not very original named Escape Room Split at Dubrovačka ul. 3A, 21000, Split, Croatia.
Pack like a pro:
Shopping in Split with teens
Shopping with teenagers in Split can be an exciting and challenging experience while on vacation. Teenagers often have their own unique tastes and preferences when it comes to fashion and entertainment, making it important to find shopping destinations that cater to their interests.
On the other hand, shopping can also be an opportunity to bond with teenagers and explore the local culture through fashion and retail. Whether it's exploring high-end boutiques or browsing through vintage markets, there are plenty of options to keep teenagers engaged and entertained while shopping during a vacation.
Here are some places that are popular among locals and tourists alike:
Diocletian's Palace and Old Town: Explore the narrow streets within the walls of the ancient palace, where you'll find an array of shops selling souvenirs, local crafts, clothing, and accessories. The atmosphere here is vibrant, and it's a great place to find unique items.
Marmontova Street: Located in the heart of Split, Marmontova Street is a pedestrianized shopping area lined with various boutiques, designer stores, and international brands. It's perfect for fashion-conscious individuals and those looking for trendy items.
City Center One Mall: If you prefer a modern shopping experience, City Center One Mall is a fantastic option. It offers a wide range of shops, including popular clothing stores, electronics, cosmetics, and more. There are also restaurants and entertainment facilities.
Green Market (Pazar): For a truly local experience, visit the Green Market situated near the Diocletian's Palace. Here, you'll find an abundance of fresh produce, local delicacies, and traditional Croatian products. It's a great place to immerse yourself in the local culture.
Joker Shopping Center: Located a short distance from the city centre, Joker Shopping Center is a large retail complex with a variety of shops, including fashion outlets, home goods, electronics, and a supermarket. It's convenient and offers a wide selection of products.
Artisan Shops: Split is known for its skilled artisans. Encourage your clients to explore the side streets and alleys of the Old Town, where they'll discover workshops and stores specialising in handmade crafts, jewellery, ceramics, and artwork.
These are just a few options for shopping in Split. The city offers a diverse shopping scene, combining modern malls with traditional markets and boutique shops.
Split for 18-19 year old teenagers
Many young adults in the 18-19 year age visit Split with their families or on their own with friends. Split and the nearby islands are attractive destinations for older teens because of the nightlife, party atmosphere, beaches and adventure activities. You can choose to go on organised activities such as:
Discover the islands near Split
Just a stone's throw from Split you can find some enchanting islands to visit. Normally I would put these in the day trips section, but island hopping and activities associated with it play a part, day in and day out on your holiday to Split.
Each island has its own unique charm and attractions. Picture yourself lounging on sandy beaches, exploring hidden coves, and diving into crystal-clear turquoise waters. When it comes to popular islands to visit near Split, Croatia, a few gems stand out.
Many of the islands are accessible by Ferry or private yacht from Split Harbour or on one of the many popular day tours that can be booked. You could also consider spending a night on one of these islands
Havr
Hvar is probably the most popular island to visit from Split. The island of Hvar offers a delightful blend of natural beauty, rich history, and vibrant energy.
Explore the charming streets of Hvar Town, adorned with medieval architecture and bustling with chic cafes and boutiques. Bask in the sun on stunning beaches like Dubovica and Skala, visit the lavender fields or embark on a walk to the hilltop Hvar Fortress.
Hvar's nightlife comes alive with trendy bars and clubs. Whether you seek relaxation, culture, or unforgettable experiences, Hvar has it all. It might be worth spending the night on Hvar to explore more of the island.
Ferry to Hvar
The ferry from Split to Hvar takes between 1 and one and a half hours, depending on which company you travel with. In the summer months of 2023, there are 11 direct trips going in either direction daily with the first ferry starting at 7:30 am.
The last one returning from Hvar at 8.30 pm. In our experience, we caught an 11 am ferry from Split and returned from Hvar on the 7 pm, giving us 7 hours on the island. Book your SPLIT to HVAR ferry today.
*If you can go to the upper deck on the ferry to Hvar. They have bigger chairs and tables in a 4 configuration. This made our return journey from Hvar much more comfortable than the way over!
Brac
Brač is another favourite, famous for its stunning Zlatni Rat beach, perfect for sunbathing and water sports. The crystal-clear turquoise waters and the surrounding lush pine forests create a serene and idyllic atmosphere, perfect for relaxation and rejuvenation.
With its natural wonders and laid-back charm, Brač is a paradise for beach lovers and nature enthusiasts alike. Brač is a must-visit destination with its breathtaking beauty and unique attractions
Ferry to Brac
The ferry from Split to Brac Island takes between 25 minutes and three and a half hours, depending on which company you travel with.
In the summer months of 2023, there are 4 trips going in either direction daily with the first ferry starting at 7,30 am and the last one returning from Brac at 8.40 pm. The ferries run to two different locations on Brac, Bol and Milna. Book your SPLIT to BRAC ferry today.
Vis
For a peaceful retreat, consider Vis, with its untouched nature, secluded bays, and charming fishing villages. Vis is somewhat famous as the filming location for Mamma Mia here we go again. The filming locations for Mamma Mia: Here We Go Again were primarily in Vis town, Komiza and Barjoska beach.
The Levaman Fortress houses the Archaeological Museum and displays artifacts from its Roman history while the World Wildlife Fund declared that Vis is one of the ten best-preserved islands in the Mediterranean. Vis is the perfect destination for those seeking an off-the-beaten-path adventure.
Ferry to Vis
The ferry from Split to Vis Island takes one and a half hours. In the summer months of 2023, there is only one trip going in either direction daily. This makes Vis not suitable to be explored in one day, and you would need to stay in Vis for the night. Book your SPLIT to VIS ferry today
Solta
Last but not least, Šolta offers you the chance to explore quaint villages and admire the traditional stone houses that dot the island's countryside. Indulge in the island's rich culinary offerings, savouring fresh seafood delicacies and locally produced olive oil and honey.
Ferry to Solta
The ferry from Split to Solta takes between 30 minutes and one hour, depending on which company you travel with. During the year 2023, there are between 4-6 direct trips going in either direction daily with the first ferry starting at 6.45 am and the last one returning from Rogac, Solta at 8.00 pm.
These islands near Split promise unforgettable adventures and unforgettable memories.
Annual events in Split that teens will love
Split is a city with a rich culture and history. There are many annual events that take place in Split that can be enjoyed by families and teens visiting Dalmatian Coast. Some of these events include:
Split Summer Festival in July has been entertaining thousands of visitors since 1954 for a month's series of drama, opera, ballet, music, dance and street theatre performances.
Split annually plays host to the 8-day Croatia Boat Show in mid-April. Yacht building companies bring their best sailing and motorboats that are exhibited in the harbour.
The Split Film Festival takes place in September every year. You will see screenings of alternative and experimental projects in video, film and new media.
The Split Par festival starts in late June and runs in July. It combines food, and fun with warm summer days, relaxed evenings and exciting concerts.
These events help to make Split a vibrant and exciting city to visit on your next family travel vacation.
Explore Canada: All the best things to do in Montreal
Day trips from Split with teens
While staying in the city with teenagers on your family holiday, a day trip to see a bit more of Croatia is recommended. There are some fun trips for teenagers and families, with the best vacations for teenagers usually including at least one day trip from Split.
Below we have a couple of day trips from Split recommendations for families travelling with teenagers.
Trogir
Just 30 minutes away from Split is the island town of Trogir. On this island you don't need to catch a ferry, the island is separated from the mainland by a bridge. To visit Trogir from Split, take a 30-minute bus ride from the main bus station.
Once in Trogir, explore the UNESCO-listed Old Town with its cobblestone streets and the impressive Trogir Cathedral. Don't miss the panoramic views from Kamerlengo Fortress and take a leisurely stroll along the waterfront promenade.
Sample local cuisine and allocate time wisely to make the most of your half-day trip. Catch a bus back to Split from Trogir when you're ready to return. Enjoy the charm and history of this coastal town!
Krka Waterfalls
Krka National Park and Waterfalls are one of the most popular sites in all of Croatia. A Krka Waterfalls Tour is the perfect day trip from Split with your teenagers. A bus will take you on a scenic journey to the enchanting Krka National Park.
Most tours to Krka will include time at the waterfalls, a boat cruise, a chance to go swimming and a stop at one of the towns near the National Park. When they say swimming they do not mean swimming at the waterfalls as that is banned, they mean swimming in the same river in a nearby town.
The tours are hassle-free with organised transportation and expert guides who will keep you informed. Your tour may or may not include entry fees to the park itself. Create unforgettable memories amidst the natural wonders of Krka. Get ready to be amazed by the splendour of this Croatian gem!
Plitvice Lakes National Park
A day trip from Split to Plitvice Lakes National Park is popular with many visitors. Plitvice is one of the most popular natural wonders in Croatia and will leave you in awe. On a visit, you can explore the park's turquoise lakes, cascading waterfalls, and lush greenery as you stroll along wooden pathways.
Capture stunning photos and relax in the park's serene atmosphere at Plitvice. Tours from Split are led by knowledgeable guides who ensure you will get the most out of your day trip by seeing all the highlights. Discover the beauty of Plitvice Lakes National Park with day trips from Split.
Dubrovnik
Another stunning historical town on the coast of Croatia to visit on a day trip from Split is Dubrovnik. Dubrovnik is in southern Croatia, close to the border with Montenegro.
It's known for its distinctive Old Town, which is protected with massive stone walls completed in the 16th century.
The Dubrovnik Old Town has many fascinating buildings to explore. You can take a cable up Mount SRD behind the old town for an amazing view old the city and coastline. There are many transfer options available if you're moving on to Dubrovnik from Split including by ferry
Related post: The 4 best ways to get from Dubrovnik to Mostar
Mostar in Bosnia
Mostar in Bosnia and Herzegovina is a popular day trip for families wanting to see another country in the Region. The town is popular worldwide for its famous Mostar Bridge, which sees people diving off it into the waters below.
The Old Town of Mostar is a Unesco World Heritage site that dates back to the 15th century and is popular with tourists seeking souvenirs and traditional Bosnian pieces to take home.
Wander the streets and take in the Turkish architecture and scars from the Bosnian War in the 90s. Mostar is a fascinating place to visit.
Places to eat in Split
Vacationing with teens absolutely needs to include a brilliant meal to remember the family holiday. Family travel with teenagers is a wonderful thing, and bonding over a meal at the end of the day or even during it is a great way to connect with your teen travellers.
Bakra Steak and Pizza Bar
If you love meat and if you love Pizza, Bakra is the place for you. Half pizza restaurant half steakhouse, you will not be disappointed.
The pizza is quite large with a good amount of topping. If you want meat, you can and will have it with a range of steaks and meat-sharing plates featuring chicken, pork, sausage and more. Bakra is a must in Split.
Terminal F
If you're looking for somewhere centrally located that serves no-frills good tasty well-priced food that all the family will love, then Terminal F is just the place.
Looking for a good serving of loaded fries, burgers, pizza or even tacos you will not be disappointed. Terminal F is located on the waterfront just near the old town and is open for breakfast, lunch and dinner.
We had food and drinks here occasionally because it was easy and convenient when visiting Split.
Street food in Split
Street food is a popular way to eat in many parts of the world. It's a quick and easy way to get some delicious local food without having to go to a full restaurant. Street food can be found in many different styles and options.
Some of the most well-known street foods include tacos in Mexico, Zapiekanka in Poland, Dan Dan noodles in China, and Shawarma in Middle Eastern countries.
Some of the most popular Split street foods include ćevapi, grilled meat served in a warm flatbread with a side of ajvar sauce. Don't miss the iconic Soparnik, a savoury pie filled with Swiss chard and garlic. Crispy Fritule, small doughnut-like pastries, make for a perfect sweet treat. Discover the authentic and delicious street food gems that Split has to offer.
Frequently asked questions about Split
There are so many frequently asked questions about Split, especially from families travelling with teenagers. Travelling to a foreign country can be difficult and there are
Split is one of Croatia's best family city breaks and one of the best places to vacation with teenagers. There are so many things to consider when you are planning your family vacation with teens.
Here is a list of some of the most frequently asked questions about Split to help you make your family vacation easy and hassle-free.
What is the legal drinking age in Croatia?
Croatia's drinking laws don't dictate a legal minimum age for drinking, but you have to be 18 or over to purchase alcohol
How do I call emergency services in Split?
In the event of an accident or severe incident where you need emergency medical assistance, you should call 112
Do I need to tip in Croatia?
It is always fair to round up your bill at a restaurant, and tipping an average of 10%-20% is appropriate
Can I drink tap water in Split?
Yes, you can drink tap water in Split. The water in Split comes from deep wells that have been used for centuries
What type of power sockets are used in Croatia?
For Croatia, there are two associated plug types, types C and F. Plug type C is the plug that has two round pins and plug type F is the plug that has two round pins with two earth clips on the side. Buy your adaptor today.

Where are the best places to stay in Split for teenagers
At the top of the article, we suggested some accommodation choices for your holiday in Split with the kids. If you are looking for a wider variety of choices for your family stay, please find below an interactive map from Booking.com for you to find the perfect stay for your Split vacation.
Are you looking to book flights, hotels, apartments, tours, airport transfers, travel insurance and more for your vacation with young adults? Are you just not sure what travel companies you can trust to book your family travel online?

We have a family travel resource page that is full of companies that we personally use, trust and book through for all our family vacation trips from a weekend away to long term travel with older children around the world. Click here to search our travel resources page.
We hope this article from us here at Wyld Family Travel has you inspired to visit Split with teenagers. There are so many things to do in Split with teenagers that will have you entertained for your family's whole stay in the city.
Travelling with young adults has just as many issues as travelling with young children. Choosing the best teenage vacation destinations can be so time-consuming. Planning a family holiday with teenagers and tweens can be stressful, and finding the best tips for travel is essential.
Use our Travel with Teenagers Destination Guides from all over the world for your next family vacation inspiration to make your family vacations with teens epic.
For more amazing ideas on where to holiday in Europe, click through to our Croatia Destination Guide page for more brilliant inspiration.
---
More travel inspiration for your trip to Europe
Europe is a popular travel destination, known for its rich history, beautiful architecture, and diverse cultures. However, it is also known for its high rate of pickpocketing. As a traveller, with teenagers, it is important to take precautions to keep your and their belongings safe. So, do I need an …
Read the full article here
---
Author bio:
Father, husband, traveller, and chief destination manager here at Wyld Family Travel. When Mark is not talking about travel or planning travel you will find him working in disability support. Mark is a family travel advocate, having travelled to over 45 countries with his kids from 10 months old, through to their teenage years. You will find his work here and on other popular websites.
Mark Wyld
Content Creator